What Should Be Included on a Real Estate Broker Resume?
A real estate broker resume is designed to showcase the the broker's experience and education. Some resumes list past employers in chronological order, while others focus on experiences without chronological details. In addition to past work, the real estate broker resume should include past accomplishments, career objectives, and education information.
Career objectives are typically listed near the top of a real estate broker resume. The objectives should dovetail with the goals of the company applied to. For example, if applying at a nationally recognized agency, the objectives should mention securing a position that allows for growth on a national level.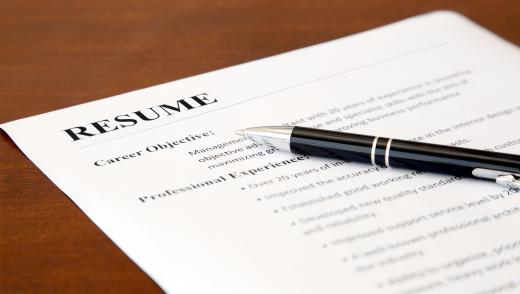 A summary of relevant qualifications gives the recipient a snapshot of what the broker is capable of. If the broker is an exceptional negotiator of large commercial properties, it should be listed in the summary. Individual job details should not be listed in this area.
Past work experience is where a real estate broker resume shines. The place for showcasing elite affiliations is here. A broker who worked with a prestigious firm in previous years can highlight this fact in the experience area. If the elite connection was long ago, the broker can consider a resume that is not chronological. This allows the placement of the most impressive jobs at the top.
Education can be important on a real estate broker resume, particularly if the broker attended a well-known college. The degree and course focus should be listed, along with any special accomplishments. Any additional education, such as seminars, conferences, and coursework, will also be listed in this area of the resume.
Real estate sales depend greatly on relationships. A real estate broker resume should always include memberships to civic organizations. Professional affiliations are also important to mention. For brokers who have held officer positions for an organization, the position should be showcased here.
A resume is designed to garner interviews. If possible, it should be limited to one page. White or ivory paper gives it a professional, polished look. An easy-to-read font type and size will make it better for the potential new employer to read and also for computerized resume scanners to process.
The broker should always include a cover letter with a resume. The cover letter details the broker's interest in the specific job applied for. It can also include a paragraph or two about past accomplishments to tantalize the reader into examining the enclosed resume.
AS FEATURED ON:
AS FEATURED ON:

By: NAN

A resume should include detailed information about the person's educational and employment background.

By: monamakela.com

Documents associated with a real estate sale.

By: apops

A hiring manager looking over a real estate broker's resume.

By: alexskopje

Successful real estate brokers may want to include their sales averages on a resume.