What Knitting Supplies do I Need to Start? (with pictures)
Technically, all the supplies that one needs to start knitting are a brain, a pair of hands, a set of knitting needles, and some yarn. This is one of the reasons why knitting is such a popular hobby, because most people have the first two supplies on hand, and the other two can be picked up easily and very affordably. Once people get comfortable with the basics, they can expand into more esoteric knitting supplies.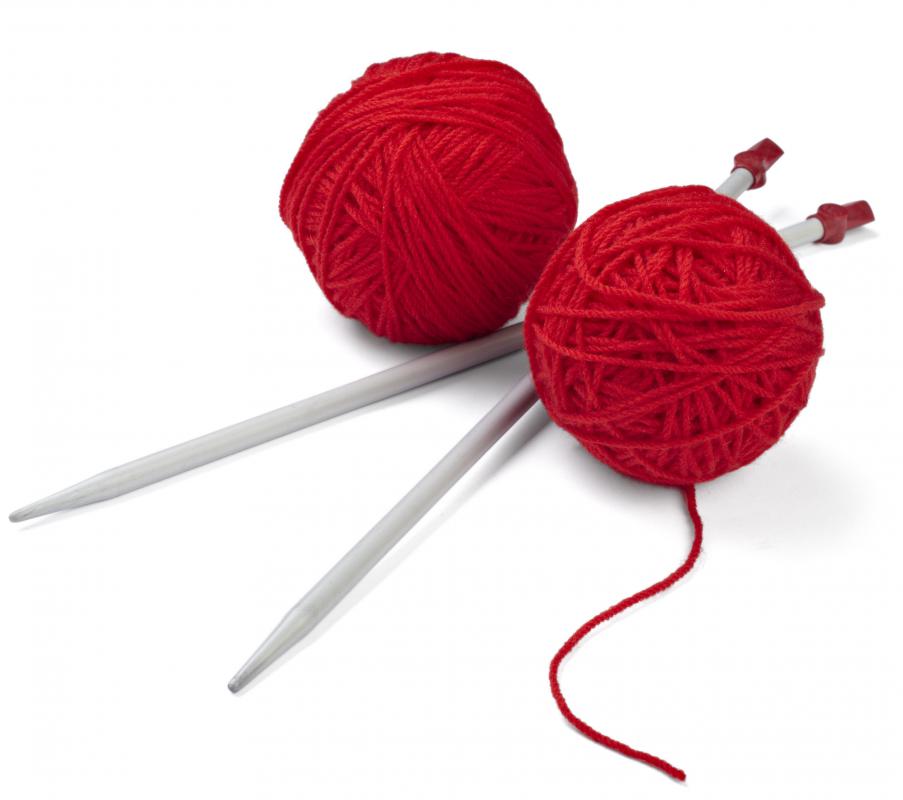 Selecting knitting needles is actually a fairly complex task. Knitting needles come in an array of styles. People can choose between wood, metal, plastic, and more exotic materials like ivory, with metal often being a good choice to start. Circular knitting needles, which are easy for beginners to use, consist of two needles tethered together with a cable. Double-pointed needles have sharp points on both ends, making them very useful for some projects, but a bit tough for beginners, while conventional knitting needles have points at one end, and bulbs or knobs at the other. People should select the knitting needles they feel most comfortable with, and they shouldn't fret too much over the selection, as they will undoubtedly be purchasing more knitting needles in the future for various projects as they build up their collections of knitting supplies.
Yarn also comes in a wide array of styles. Worsted weight yarn is one of the best choices for beginning knitters, because it is smooth, easy to work with, and relatively inexpensive. Once people master the basics on worsted weight, they can work their way up to novelty yarns and more exotic yarns. A yarn store should have an array of colors available in worsted weight wool, acrylic, and cotton, with organic options available for consumers who want them. Yarn can be one of the costliest knitting supplies, as knitters tend to squirrel away good yarns as they find them, but a good stock of yarn can yield an array of interesting projects.
Some other good knitting supplies to have include large upholstery needles for tucking in ends of yarn to finish a project, along with crochet hooks, which can be used for finishing and to pick up and repair dropped stitches. Stitch markers for knitting in the round are also handy for advanced projects, and some knitters also like to use a register, also known as a stitch counter. Registers can be used to count stitches or rows for complex projects to make sure that the knitter does not lose track of what he or she is doing. A knitting bag for carrying supplies and projects is also handy, as is a pair of sharp scissors for cutting yarn.
In addition to the knitting supplies discussed above, it can also be useful to have a pattern book. A simple project like a basic scarf does not require a pattern, but for projects like blankets, sweaters, and so forth, many knitters like to use a pattern, at least in the beginning. Patterns are formatted in a variety of ways, and many pattern books have ratings to help knitters determine whether or not they have enough experience for a given project, along with directions for special stitches such as cabling and lace. Knitters who have not worked with patterns before should open a pattern book and read a test pattern to see whether or not they understand it to determine whether or not a pattern book's style and presentation format are suitable.
A knitted sweater.

Knitting needles and yarn.

Yarn is included in most knitting kits, so be certain you like the colors before you make a purchase.

Knitting your own scarves can be relatively easy with a little practice.