What Kinds of Workout Classes are Offered at Swimming Facilities?
Most swimming facilities offer a variety of workout classes. There are classes for swimmers to learn new strokes and techniques as well as water aerobics sessions. Depending on where the facility is located, as well as its size, it may offer non-water related classes in addition to swimming and water aerobics.
For example, many swimming facilities located in a community center have classes that include different fitness activities. Certified fitness trainers work with participants in group sessions or individually. Personal trainers often offer private fitness or group sessions through community centers. Advanced lessons may include high level aerobics, weightlifting and running as well as swimming speed races or diving. A beginner's class program may include fitness walking, plus a swimming routine and learning how to work with weights.
Many pool facilities include an adjacent weight room. The membership fee or cost for swimming in the pool may include the use of the weight room. Classes or personal training for those unfamiliar with weight workouts are typically offered at most swimming facilities. Weight training workout classes are important for beginners since otherwise injuries such as strained muscles could occur. Certified fitness trainers experienced in working with weights understand how to guide exercisers safely in using different weight room machines while also helping them learn how to tone their body effectively.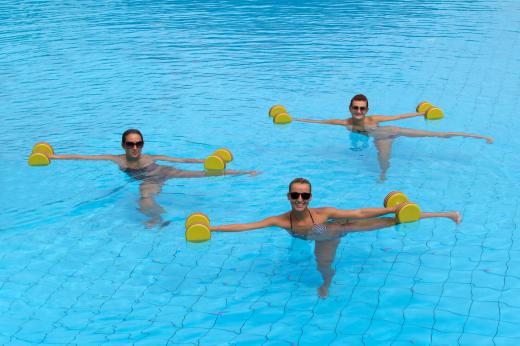 If a swimming pool facility is located near other community fitness resources such as a running track or gym, trainers will often use these in their classes. Swimming facilities with gyms often teach Pilates, yoga or aerobics, so it's possible for participants to find a program that includes all of these activities. This type of offering is desirable by many people because of the variety of exercise as well as overall fitness guidance from a certified community center fitness instructor. If participants who take mixed activity classes find they really like one of the sports, then taking classes in just one of them is what they may choose to do next.
Water aerobics and swimming lessons are common offerings at most pool facilities. These workout classes are grouped by age and level from children to seniors. Floating, followed by arm and leg movements as well as breathing techniques for swimming are taught in children and adult swim classes.
Water aerobic sessions are in either deep or shallow water. For beginners, shallow water aerobics are usually recommended since the feet touch the pool floor and the shoulders are well above the waterline. In the deep water aerobics version, floats are usually used to keep the exerciser upright in the water since the feet won't be touching the pool floor.
Another type of deep water class offered at many swimming facilities is diving. Most public pools have at least two diving boards of different heights. Since a diver plunges into deep water, he or she must know how to swim underwater before taking diving lessons. Once different kinds of dives, such as feet-first jumps, then head-first diving, are mastered on a low board, classes using the higher one can be taken.
AS FEATURED ON:
AS FEATURED ON:

By: Rido

Pool facilities offer various types of workout classes.

By: american911

Water aerobics is an exercise performed in a pool.

By: biker3

Certain classes will require a person to know how to swim underwater and hold their breath before participating.

By: Pete Saloutos

Swimming facilities with gyms often teach yoga classes.