What Is Vegetarian Cannelloni? (with pictures)
Vegetarian cannelloni is a stuffed pasta dish that generally is made with vegetables and cheeses. The dish has its origins in Italy but has become a popular fixture in the cuisines of many cultures, in part because of its simplicity and flexibility. Cannelloni are essentially hand-rolled pasta tubes that are filled with savory ingredients, the most popular of which are those such as meats and cheeses. The majority of Italian cannelloni recipes include some form of meat in the stuffing. A vegetarian cannelloni necessarily omits these ingredients, often replacing them with roasted vegetables or hearty greens such as spinach.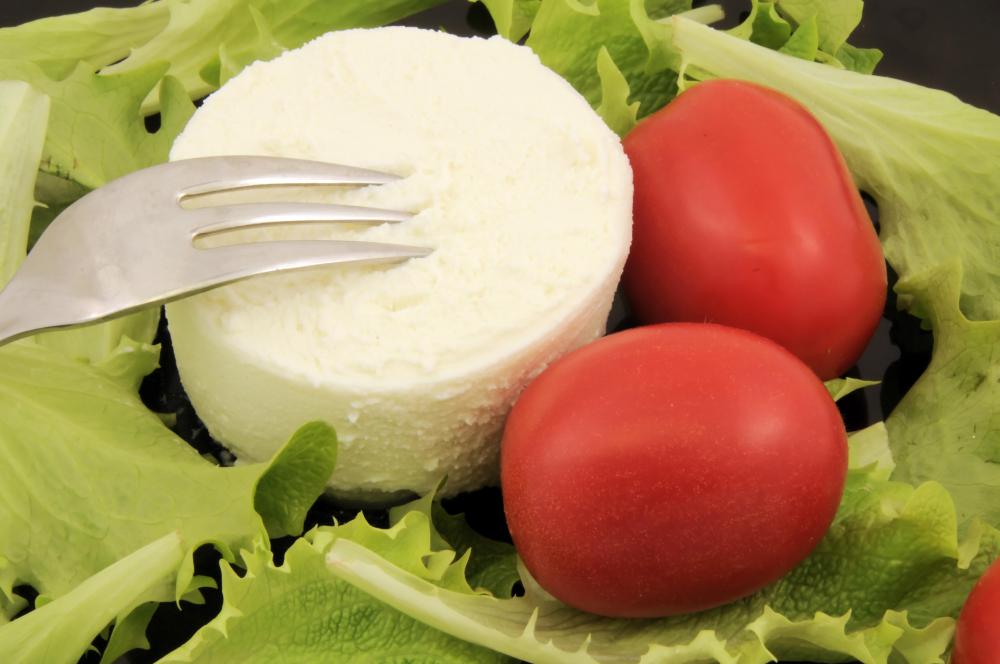 The most traditional vegetarian cannelloni is completely homemade, which can make it somewhat time consuming. Cooks must first prepare fresh pasta dough sheets, on top of which they layer stuffing ingredients. While the pasta dough is still wet, it must be folded around the stuffing, giving the impression of a stuffed tube. Cooks who do not have the time to make pasta at home can either purchase pre-made fresh pasta from an Italian grocer or other specialty grocery store or make use of commercially prepared flat pasta sheets. Boiled lasagna noodles are a popular choice.
Making cannelloni noodles from scratch has certain advantages that many people believe outweighs the time commitment. It gives cooks the ability to size portions according to personal taste, for one thing, and it allows for seasonings and flavors to be incorporated directly into the noodle base. Cooking vegetarian food often involves a lot of vegetables, and many cooks look for creative ways of incorporating these elements. Adding spinach, tomato or bell pepper to pasta dough is an innovative way to pack in nutrients and usually to add color.
A vegetarian diet eschews meat, which means that sausage and ground beef or lamb — which are popular cannelloni favorites — are off-limits in a vegetarian cannelloni dish. This only incidentally limits the possibilities, however. Cheese cannelloni and any combination of cheese and vegetable cannelloni are well within the bounds.
Ricotta cheese is one of the most common cheese additions to cannelloni of any style. Mozzarella, mascarpone and provolone are good choices as well. Many cooks add spinach to vegetarian cannelloni to add protein, but nearly any vegetable can be used. Vegetables usually can be added raw or pre-cooked.
After the cannelloni noodles have been rolled, they usually are baked in a casserole dish, often with a flavorful sauce covering them. The baking allows the cheeses to melt and solidifies the stuffing so that the final dish makes a coherent presentation that can be cut into without completely disintegrating. Italians often serve cannelloni as one of many courses in a meal, but the dish can easily be an entrée in and of itself. Even people who do not normally adhere to a vegetarian diet might enjoy meat-free cannelloni as a light meal.
Vegetarian cannelloni is different from vegan cannelloni. Vegetarians avoid meat, and vegans avoid all animal products — including egg and cheese, both of which usually are included in vegetarian cannelloni. Some vegetarian products also are vegan, but this is not always true. Vegans usually have to be much more careful about specific ingredients and additives.
Greens such as spinach replace meat in vegetarian cannelloni.

Ricotta cheese is used in savory fillings for cannelloni pasta.