A lifestyle that avoids the consumption of meat is vegetarianism. Vegans take this philosophy further, declining to eat or wear anything made from any part of an animal. While vegans have numerous food options, vegan fashion requires forethought, planning and diligent attention to details. The clothes a vegan wears — shoes, gloves, hats, even accessories such as jewelry and luggage — need to meet the specifications of the vegan lifestyle.
Vegans try to avoid participating in what they consider to be cruelty to animals for man's benefit. Leather, fur, wool and lambskin are all examples of clothing materials that vegans choose not to wear. Down, the product used as insulation in cold-weather clothing and bedding, comes from geese and other birds and also is against vegan fashion rules. Even silk, produced by silkworms, is unacceptable as a clothing material for vegans. This philosophy means vegans must look at other materials to find suitable options for shoes, clothing and accessories, as well as home furnishings.
Despite its restrictions, vegan fashion provides numerous material options. Natural products from plants — cotton, hemp, linen and bamboo — are suitable for clothing, household furnishings, footwear and accessories. Items manufactured with these materials replace leather, fur, down and silk. Vegan clothing produced from soy plant fibers round out the main natural plant fashion options.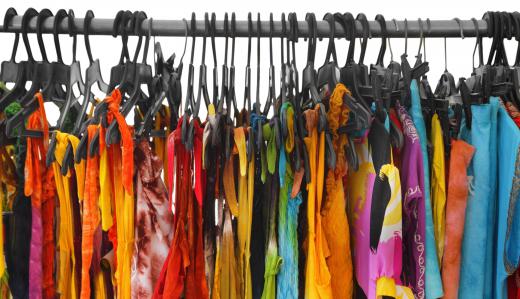 Rubber, although produced by a manufacturing process that some might consider less than eco-friendly, is still a plant product that is cruelty-free. Recycled plastic has a significant place in vegan fashion. Repurposing it for vegan shoes, accessories and other couture options extends the life of this non-biodegradable petroleum product. Other petroleum-based synthetics that have found a place in vegan fashion include nylon, new and recycled polyester, rayon and lyocell.
Manufacturing processes that use animal products are not vegan friendly. Consumers must research new companies and brands before purchasing products that appear to be vegan. Industrial processes use hundreds of chemicals to create finished products. Some of these, such as mink oil, come from animals. One can ask the producer, if necessary, to verify vegan manufacturing processes or check unfamiliar products or the manufacturer against lists maintained by vegan fashion organizations and groups.
When seeking vegan fashion sources, one may want to consider big-box retailers that cater to consumers worldwide. Some clothing boutiques also specialize in the vegan niche. The choices for clothing, household goods and accessories cover all price points. Budget handbags and shoes may share the same spaces as designer vegan fashion seen on fashion show runways.
AS FEATURED ON:
AS FEATURED ON:

By: Microstock Man

Lyocell is a petroleum-based wood pulp product.

By: adisa

Some clothing stores specialize in vegan fashion.

By: Peter Atkins

Some fashion designers may specialize in vegan fashion.

By: esebene

Designers often use plant-based materials like hemp to make vegan clothing.

By: Wrangler

Vegan fashion emphasizes clothing made with natural products from plants.

By: Eky Chan

Vegan leather makes various quality products without harm to animals.