What Is Vanilla Soy Milk?
Vanilla soy milk is soy milk that is flavored with vanilla extract to improve its taste. Most soy milk manufacturers offer their product in plain, vanilla, and chocolate varieties. While a few have even begun to offer consumers a strawberry flavored version, vanilla continues to be the most popular flavor.
Soy milk is a vegetarian alternative to regular milk. It contains many of the same nutrients and vitamins that traditional milk does, but typically has fewer calories and fat. Vanilla soy milk can be used in place of traditional milk in recipes, on cereal, or it can be consumed on its own.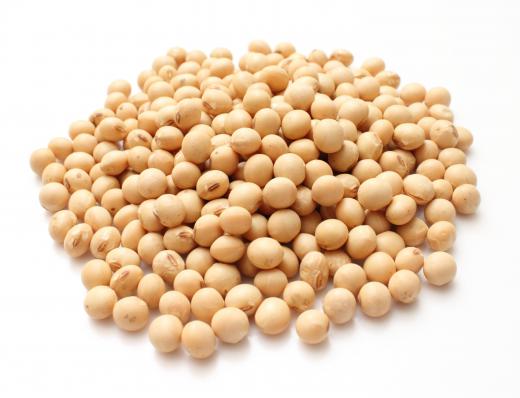 Non-vegetarians who may be lactose intolerant might also find vanilla soy milk to be a viable alternative to animal-based milk. The drink is lactose free, is a good source of protein, and may contain heart-healthy omega three properties. Soy milk's taste and consistency is somewhat similar to regular skim milk, although some might say that it is a bit lighter.
One of most difficult things to get acclimated to is the taste of plain soy milk. This is especially true for those who are attempting to make the switch and are trying the product for the first time. The taste can be somewhat bitter and watered-down. Vanilla soy milk helps to restore some of the rich flavor associated with traditional milk.
Due to its increasing popularity, there are several major brand name versions of vanilla soy milk. Some retailers also offer a store brand version of the product. There are refrigerated cartons as well as shelf-stable box versions. The latter type has a long shelf-life and does not have to be refrigerated until it is opened.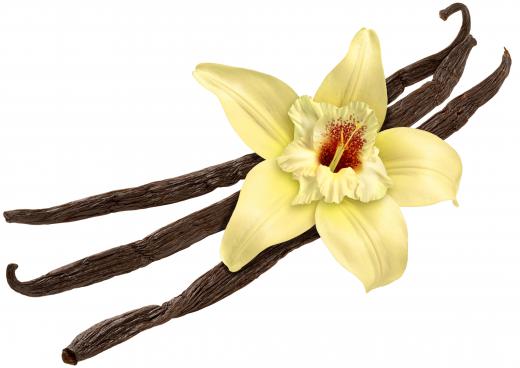 In addition to a full calorie version, there is also light vanilla soy milk. The light versions feature reduced calorie and fat content for those who are concerned about watching their weight. Others simply find that they prefer the taste of the light version over the regular one. They both contain the same amount of protein and calcium.
Vanilla extract is added to plain soy milk in order to give the product its flavor. It is a subtle taste that isn't always readily detectable. Consumers shouldn't have any problems locating the flavor in their local grocery store; however, a few drops of extract could be added to plain soy milk to duplicate the product. As with other types, vanilla soy milk comes from soy beans, which causes the plain version's bland taste.
AS FEATURED ON:
AS FEATURED ON:

By: terumin

Soy beans.

By: Andrey Kuzmin

Vanilla soy milk can be used in place of cow's milk in baking.

By: rimglow

Because of its increasing popularity, there are several major brand name versions of vanilla soy milk.

By: vgstudio

Drinking vanilla soy milk is a good source of protein.