What is Usually Included in an Embroidery Kit?
An embroidery kit is a craft product that combines all of the components necessary to create a piece of needlework in a single package. Most kits include a needle and a special type of thread called embroidery floss. They also include fabric which may be stamped with a design, or may be accompanied by a paper chart which indicates the project's stitch pattern. Some kits also provide an embroidery hoop, which is used to stretch and stabilize the fabric being embroidered.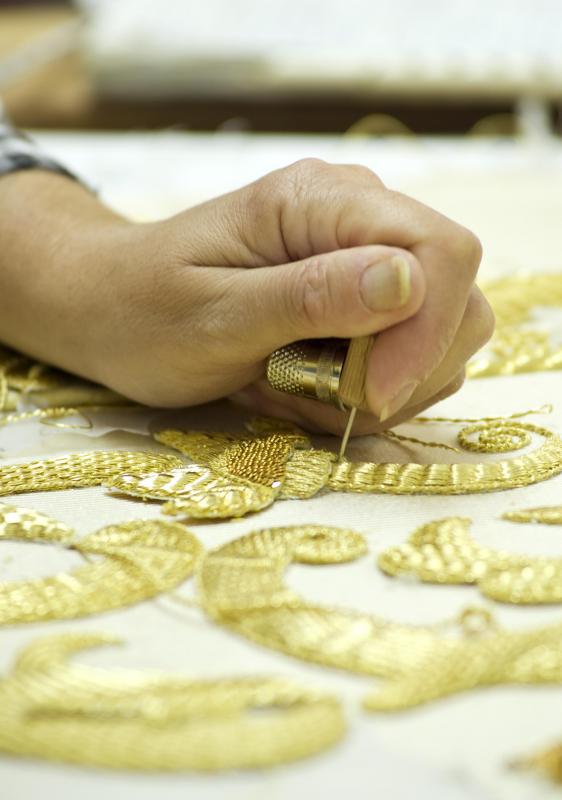 One of the most important components of an embroidery kit is the embroidery needle. In most cases, the type of needle included will vary based on the kit's fabric and thread types. Thick threads generally require thick needles, for instance, and heavy fabrics require a sharp needle point.
Thread is another common part of an embroidery kit. In most cases, the type of thread included is a soft fiber called embroidery floss. Usually, embroidery floss is dyed in richly saturated colors, and has a subtle sheen. These qualities lend vividness to the finished embroidery project. The amount of floss included in a kit depends on the specifications of the kit's pattern.
A third piece common to all embroidery kits is the fabric on which the kit's pattern is to be stitched. The type of fabric included is generally dictated by the intended use of the finished project. A piece of embroidery which is intended solely for decoration, for instance, may be made from a coarse fabric like Aida, while one which will eventually become a pillowcase will likely be made from a soft fabric like silk.
Another important part of the embroidery kit is the pattern, which indicates where stitches should be placed to create a picture or design. The range of embroidery patterns available is vast, although common variations include floral and holiday themes. Depending on the kit's difficulty level, the pattern may be stamped directly on the fabric, or may take the form of a paper chart. Normally, pattern-stamped fabric is associated with beginner's embroidery kits.
Finally, some kits include an embroidery hoop, a device used to stabilize and stretch the fabric being embroidered. An embroidery hoop consists of wooden or plastic circle which is surrounded by a second, slightly larger circle. Users part the two circles, drape their fabric over the smaller piece, and then replace the larger piece. The hoop then holds the fabric taut so it can be easily stitched.
Embroidery kits contain all the components needed to create a piece of needlework in one convenient package.

Embroidery kits contain a needle, thread, and pattern.

Some kits will include an embroidery hoop.

Embroidery kits will include embroidery floss.