Undhiyu is a mixed vegetable casserole that is one of the most well-known Gujarati dishes from India. It is made of stuffed vegetables and fenugreek dumplings all cooked in a flavorful green masala sauce. It may be served as a side dish but is often served, with rice, as a main meal. While recipes may differ slightly from family to family or chef to chef, they all share a spicy masala flavor.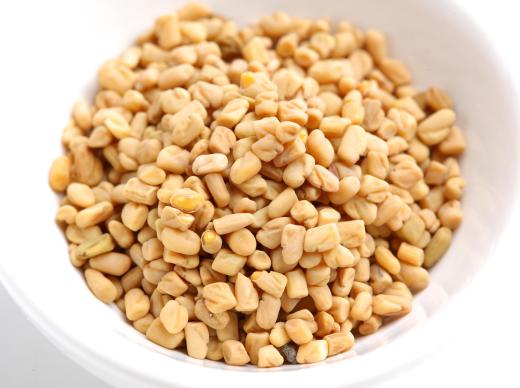 The dish traditionally is made using some vegetables that are specific to India, but adaptions to it have been made so that Undhiyu can now be made throughout the world in both Indian restaurants and homes. There are three main parts to undhiyu, namely the vegetables, the dumplings, and the sauce. The vegetables may include eggplant, also known as aubergine, as well as potatoes, yams, surti papdi, a type of bean, green beans and plantains. Plantains are a firm banana often used in cooking, and when making undhiyu, usually used when they are still slightly green.
The dumplings, which are called muthiya, are made of wheat flour, chili paste, fenugreek, turmeric, coconut and salt. Again, recipes may differ from chef to chef. The ingredients are mixed together and then the batter is rolled into small balls and deep fried. The dumplings are usually cooked before the rest of the dish and added to it at the end of the cooking process.
The real flavor of undhiyu is in the sauce. Again, ingredients may differ, but generally include a range of spices including coriander, ginger, chili, garlic, cumin, turmeric and coconut. This is all combined into a paste which is rubbed onto the vegetables and placed into slits made in the vegetables.
Traditionally, the dish was cooked in a clay pot and this is still done in some restaurants. The vegetables are layered and cooked in the clay pot or a pan over moderate heat. Water or oil is added to it to create the gravy. Once the vegetables are softened, the dumplings are added and carefully mixed in to spread them evenly. The dish is served either with rice or flat breads and is a favorite hot dish during cooler winter months, due to its spicy flavors.
Commercial undhiyu mix is available in most international supermarkets. It comes with both the vegetables and the muthiya or dumplings, pre-made and frozen. This provides an alternative to cooking undhiyu from scratch, especially in places where the ingredients may be hard to find.


By: zoë biggs

Undhiyu is often flavored with coriander.

By: jedi-master

Fenugreek is a spice used in cooking and a dietary supplements.

By: Photographee.eu

Turmeric is used in a paste that acts as the spice based for the undhiyu sauce.

By: Pavel Losevsky

Undhiyu is available in Indian restaurants throughout the world.