Tuna salad is a spreadable dish most often used as a topping for sandwiches, pasta, and green salads. There are various recipes, but most contain a base mixture of chunk tuna mixed with mayonnaise or salad dressing. Other ingredients often used in tuna-based salads include pickles, onions, and dill. In most cases, the mixture is refrigerated and served cold. Tuna salad is a popular dish for many low-calorie and high-protein diet plans.
Sandwiches made using tuna salad can be made using any type of bread, however, because the mixture can be moist, breads with higher density usually work best. Some bread types with high density include rye, pumpernickel, and large hoagie buns. The breads can be served toasted or direct from the package. Some common toppings for these sandwiches include lettuce, tomato, and cheese.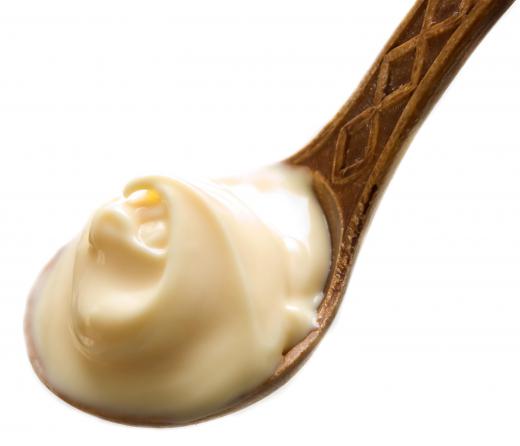 Green salads made using tuna are popular not only for the flavor, but because of their low calorie content. Many popular diet plans include green garden vegetables topped with various types of tuna salads. In most cases, tuna salads intended for dieting purposes are made using low-calorie, low-fat mayonnaise. Most any type of pasta can be used with tuna-based salads, but the most common types are shaped pastas such as bowtie, spiral, or shells.
Tuna used for making salads is most often purchased in cans, already chunked and ready to mix. Canned tuna is typically packed in either oil or water, and is designated as either light or white. White tuna is much more expensive than light varieties and usually comes from a type of tuna called albacore. Tuna can also be purchased fresh or frozen.
The nutritional value of tuna is one of the reasons it is such a popular choice for both snacks and main dishes. Tuna has no carbohydrates or sugars, but is very high in protein and iron. Tuna also offers trace amounts of vitamin A and calcium. Consumers should be aware that tuna packed in oil could be high in fat content, because even when drained, some of the oil adheres to the fish.
Some research seems to indicate that mercury levels in tuna may be too high for it to be eaten on a regular basis, however, those involved in the fishing industry claim that the research is exaggerated. Consumers who have concerns as to the safety of tuna should make it a point to read the research and make their own determinations, or to consult with their physicians. Some studies indicate that regular tuna consumption might pose some hazard to unborn babies, so pregnant women should probably consult with their obstetrician before making tuna salad a regular part of their diet.
AS FEATURED ON:
AS FEATURED ON:

By: Alexandra

Mayonnaise is a common base for tuna salad.

By: Viktor

Dill weed is often used to flavor tuna salad.

By: PhotoSG

Tuna salad is a good example of a high-protein, low-fat meal.

By: ivobalderi

Canned tuna is a crucial ingredient in tuna salad.

By: margo555

Italian green salads with tuna often use olive oil for flavor.

By: Natika

Onions are commonly chopped up and added to tuna salad.

By: S.HarryPhotography

A dash of lemon juice added to tuna before mixing makes tuna salad flavorful.

By: joesayhello

Fresh tuna sashimi makes an elegant alternative to canned tuna.

By: SunnyS

Chunk tuna may be mixed with salad dressing to make tuna salad.