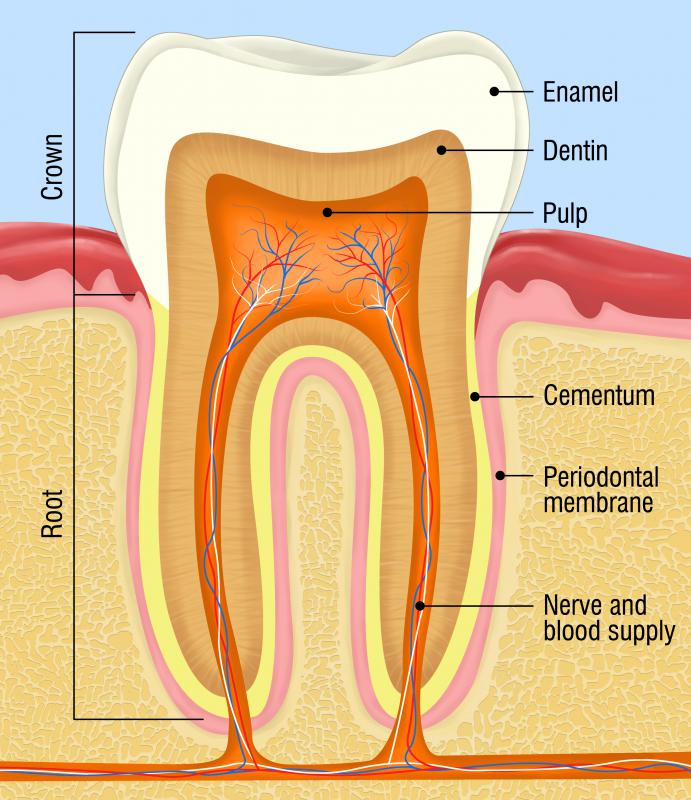 Tooth reshaping, also called tooth recontouring, odontoplasty and enameloplasty, is a dental procedure that involves moving around tooth enamel to improve overall appearance. This cosmetic procedure corrects chipped or crooked teeth, and adults may sometimes consider reshaping to alter the length, surface, or shape of their teeth. Dentists typically use laser or sanding techniques to correct one or more teeth. Other techniques, such as bonding or applying veneers, may also be combined with tooth reshaping. Tooth reshaping is generally quick and painless, but the procedure may cause the enamel to thin out and cause decay or other problems.
The tooth reshaping procedure involves removing small segments of tooth enamel to reposition the length and shape as well as refinish a tooth's surface. This procedure helps to improve a person's smile by making the teeth appear more normal and healthy. Dentists may also use a tooth-colored laminate during the procedure to create whitened teeth.
Some adults may prefer to undergo odontoplasty instead of braces to correct the form and alignment of the teeth. Tooth recontouring may be effective for those who have crooked teeth, overlapping teeth, or bulging of the enamel. Recontouring or reshaping may also be needed if a person's tooth appears cracked or chipped because of an accident.
Tooth reshaping should be intended only for subtle changes to normal, healthy teeth. As with most medical procedures, recontouring should always be discussed with a dentist to determine if it is appropriate for the patient's mouth. More serious tooth imperfections or other complications may require major cosmetic surgery.
Prior to the procedure, the dentist typically takes an X-ray of the teeth to determine their overall health and the need for tooth reshaping. Criteria depends on the strength of each tooth's enamel, and the size and location of the tooth's pulp, i.e., the center of the tooth including the blood vessels and nerves. At the start of the process, the dentist marks the teeth that need to be reshaped. During the procedure, the dentist applies a laser or a sanding drill to slowly remove some of the surface enamel. Next, the dentist uses abrasive strips to reshape the sides around each tooth, followed by a polish that smooths it out.
Recontouring sometimes may be combined with additional procedures designed to align and whiten the smile. Dental veneers help to reverse discoloration with porcelain specially shaped to be glued onto the tooth. Bonding involves applying a thin coating of plastic substance onto the front of each tooth. This particular procedure covers flaws found on the tooth's surface.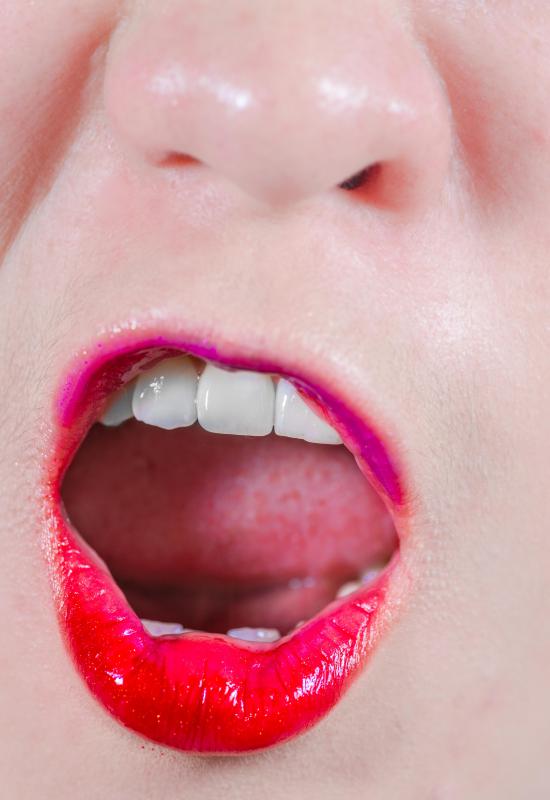 Anesthesia is usually unnecessary because tooth reshaping does not hurt the pulp. Follow-up visits may not be required unless the procedure was combined with other techniques like bonding or dental veneers. Otherwise, the process may take up to three visits.
Almost every cosmetic dental or medical procedure has pros and cons. Enameloplasty allows for the opportunity to customize teeth for an improved smile. The procedure is also inexpensive, quick, and pain-free. Some disadvantages include the risk of tooth decay or breakage if too much enamel gets removed. Tooth sensitivities to heat or cold may also arise if the enamel becomes too thin.
By: kocakayaali

Tooth reshaping often involves moving enamel.

By: Subbotina Anna

Dental veneers can brighten and perfect a smile.

By: Sulabaja

Porcelain veneers can be glued onto teeth to give someone a more natural and appealing smile.

By: Alex Tihonov

Anesthesia is usually unnecessary because tooth reshaping does not hurt the pulp.

By: yanmingzhang

Tooth reshaping can correct crooked teeth.

By: Jeremys78

Tooth reshaping can degrade the strength of teeth and potentially lead them to decay more easily.