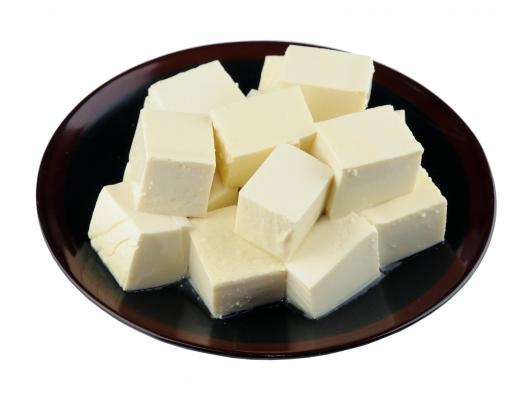 Tofu lasagna is a meatless vegetarian version of the classic baked pasta dish. Often healthier than traditional beef lasagna, tofu lasagna uses tofu, a pressed soybean curd, as a meat substitute. Although this dish may be found on vegetarian menus or premade in the vegetarian section of stores, it is more often homemade.
In addition to fresh or packaged lasagna noodles, firm tofu, marinara or tomato sauce, mozzarella and Parmesan cheese, and salt and pepper are used in this lasagna. Parsley, mushrooms, eggs, and fresh spinach are also sometimes included. If the dish is not strictly vegetarian, chicken may be also added.
The marinara sauce may be made fresh or bought premade. Jarred spaghetti sauce is most often used for tofu lasagna when not making sauce from scratch. From-scratch sauces usually mix tomato sauce with seasonings, such as basil, oregano, and garlic.
Occasionally, ricotta cheese may be used in combination with mozzarella cheese for added flavor. If tofu is unavailable, cottage cheese may be used as a substitute. Additional vegetables and spices, such as zucchini and red pepper flakes, may also be included in certain versions.
To make tofu lasagna, the tofu is drained, rinsed, and patted dry. Then it is crumbled into a bowl or food processor. The vegetables, cheese, and seasonings are added to the tofu, and the mixture is folded together or pulsed in a processor.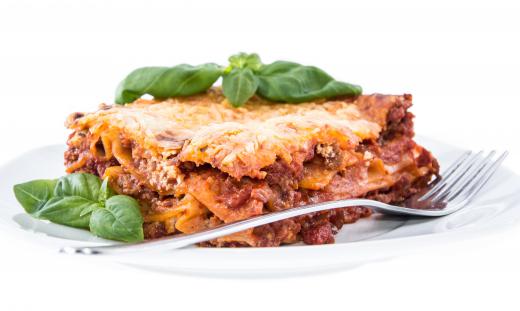 Usually the mushrooms and spinach, if used, are first sauteed in oil or butter with the garlic and spices before they are included in the tofu mixture. If eggs are used, they are stirred in once the spinach wilts while the pan is still being heated. Packaged noodles are boiled then drained and cooled before being handled.
Tofu lasagna is normally placed into a rectangular pan. The pan should first be sprayed with nonstick spray or coated in shortening. Then the ingredients are layered in the pan. A layer of sauce fills the bottom, then a single layer of noodles are placed on the sauce, and finally the filling is spooned onto the noodles. This process is repeated for another layer or until all the ingredients are used.
Parmesan cheese may be grated on top of the completed dish. The lasagna is usually baked for close to an hour until the cheese is bubbly. Like traditional lasagna, tofu lasagna is cut into squares or rectangles to serve.


By: Norman Chan

A plate of tofu.

By: Barbara Pheby

Basil is a common ingredient in lasagnas.

By: HandmadePictures

Lasagna is always a good crowd pleaser as it can be meatless.

By: Dionisvera

Spinach is sometimes added to tofu lasagna.