What Is Therapeutic Horseback Riding?
Therapeutic horseback riding is an adaptive sport in which individuals with physical, developmental, and emotional handicaps are taught to ride horses. This type of therapy has been medically proven to help individuals improve muscle tone and balance through the physical exercise of riding the horses. It also provides opportunities for riders to spend time outside bonding with the animals, which can have a positive impact on their mental and emotional states, as well.
Individuals of all ages with any type of injury or disability can benefit from therapeutic horseback riding. The natural movement of a horse's body when walking or trotting has been shown by doctors to promote flexibility, strength, and improved coordination in riders. Children who are suffering from developmental diseases or physical handicaps which impair their ability to walk and exercise can strengthen their lower back muscles and torso while riding a horse. This type of therapy is also utilized in helping patients who have undergone spinal cord surgery or leg amputations to learn to walk again, sometimes using a prosthesis.
Therapeutic horseback riding can include other horse related activities that are designed to promote mental and physical healing. This can include competitions, vaulting, trail riding, and caring for the stable. In addition to the physical benefits experienced while riding, participants also show signs of increased mental stability and emotional fortitude from forging a personal bond with the horse.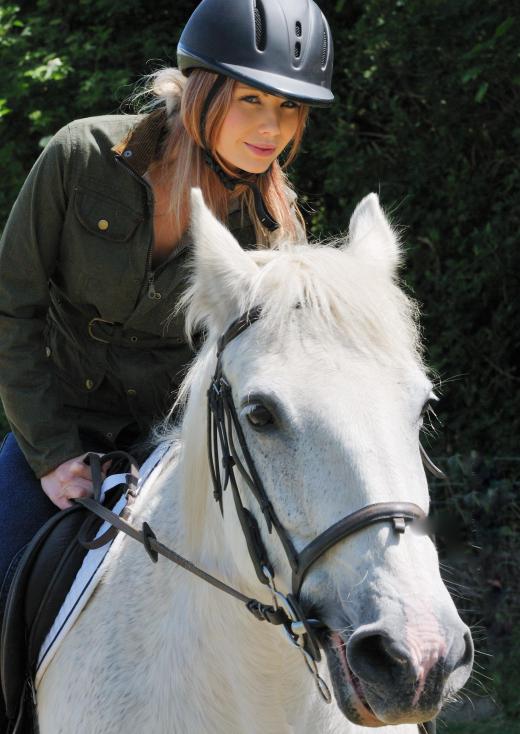 The handicapped individual is typically accompanied by side walkers, a horse leader, and an instructor during therapeutic horseback riding lessons. A side walker stands on either side of the horse to ensure that the rider does not fall to the ground if he loses his balance at any point during the session. The horse leader guides the animal around the walking ring or down a trail, and prevents it from breaking away from the group and rearing while the rider is seated. The instructor teaches the rider how to sit properly, hold the reins, and move with the horse as it walks and trots. Instructors are typically required to have professional training in dealing with horses and understanding a broad range of human physical disabilities.
The animals involved in therapeutic horseback riding are specially trained to interact gently and calmly with their riders. These horses are often selected for this purpose based on their more docile personalities. Older horses, who are no longer able to compete, breed, or show, are sometimes given to stables that participate in therapy sessions. The horses are trained to stand in positions beside unique mounting devices which are used to lift riders into place on the saddle who cannot reach it under their own power. They are conditioned to keep an even gait during a therapy lesson and watch the specific commands of the instructors which guide them through their movements.
AS FEATURED ON:
AS FEATURED ON:

By: alexnika

People with handicaps are taught to ride horses in a sport known as therapeutic horseback riding.

By: pauws99

Therapeutic horseback riding helps improve muscle tone and balance.

By: Alexia Khruscheva

Horses are also used in occupational therapy, helping people develop skills which will help them later in life.

By: yanlev

Research has shown that the natural movements of horses while walking and trotting can help riders improve flexibility, strength, and coordination.