What Is the Situational Leadership Model?
The situational leadership model is one of several leadership theories developed by a variety of psychologists and researchers in the late 20th century. These models are used in the business world to offer managers and other leaders advice or techniques for the best way to lead their teams, or to show managers areas where they need to improve. The situational leadership model is one of the most often referenced models, because rather than focusing on any inherent traits or skills of the leader, it is focused on the ability of the leader to assess the situation and adjust his or her leadership tactics accordingly.
According to the proponents of this theory, the ability to adjust leadership methods to each situation, or even to each employee is one of the best ways to develop an effective, productive workplace. There are a few different parameters often used with the situational leadership model, and these are related to the various skill levels of the employees. Put simply, a manager in the situational leadership model is expected to adjust his or her leadership style based on the competence of the employee as well as his or her enthusiasm for the job.
It is best to illustrate this idea with an example. To begin, a new employee might have a very low level of competence for a job, but a high level of enthusiasm and commitment to do it well. This leader will then provide a lot of specific direction to the employee to help him or her learn. An individual with a high level of competence for the job and a low level of enthusiasm, by contrast, might need leadership that is more focused on relationship building. An employee with high levels of both competence and enthusiasm might only need very limited direction and not a great deal of leadership at all.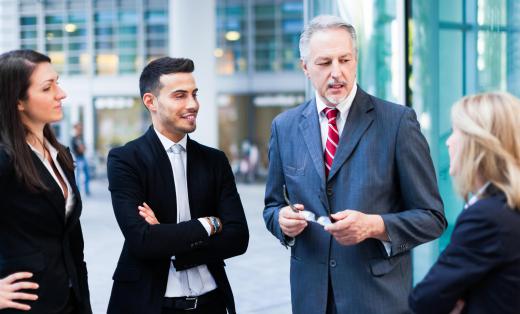 The purpose of the situational leadership model is to benefit both the leader and the employee equally, and to allow them to both get what they need from the work relationship. There are many different, highly specific varieties of the situational leadership model for different business environments or specific task-oriented jobs, but these are the general principles. The ability of a manager to adjust his or her leadership or management style to each individual employee or situation, will help to ensure that everyone succeeds at their jobs, and feels satisfied at the end of the day.
AS FEATURED ON:
AS FEATURED ON:

By: BlueSkyImages

Situational leadership refers to the philosophy that a business leader's style should reflect each unique situation they face.

By: Minerva Studio

The situational leadership model is intended to benefit the leader and employees equally.