What Is the Process of Candle Making?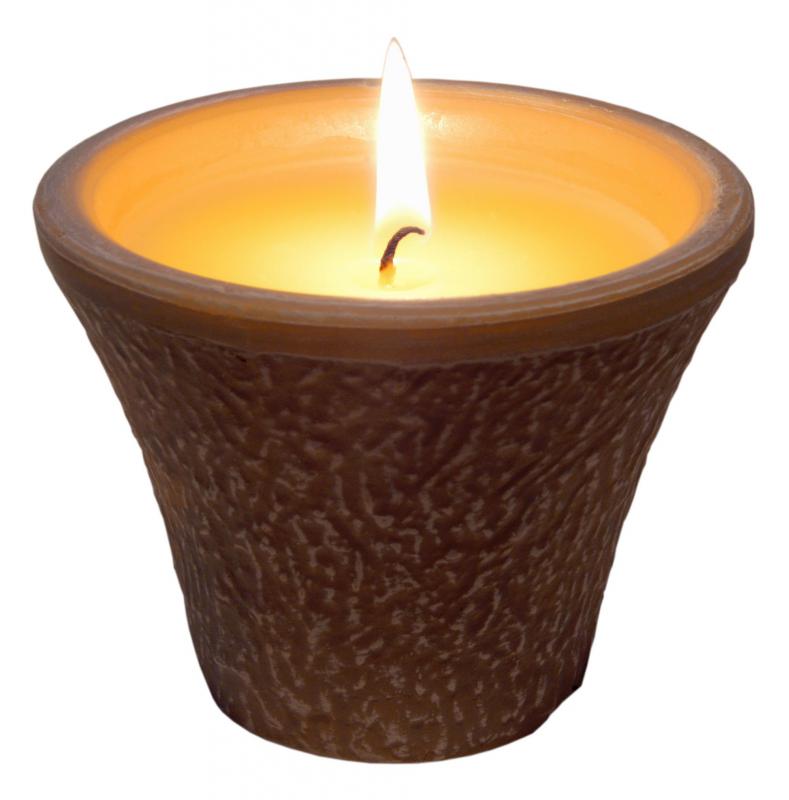 The process of candle making is relatively simple. Wax is gently heated until melted and then dyes and fragrance are added. Once everything is mixed, the liquid candle is poured into molds with a wick and allowed to cool. For a smooth surface or different colors, a second pour is made once the base is cool.
Candle making begins with high quality wax. While cheap wax or crayons can be appropriate for a child's art project, quality candles, especially scented ones, require a high end base. Chunks of wax are gently melted over water in a double boiler until they reach at least 170° Fahrenheit (76° Celsius); anything over 185° Fahrenheit (85° Celsius) can burn the wax or become a fire hazard. A cooking thermometer, typically used for candy making or deep frying, can monitor the temperature. If the wax begins to smoke, it is too hot.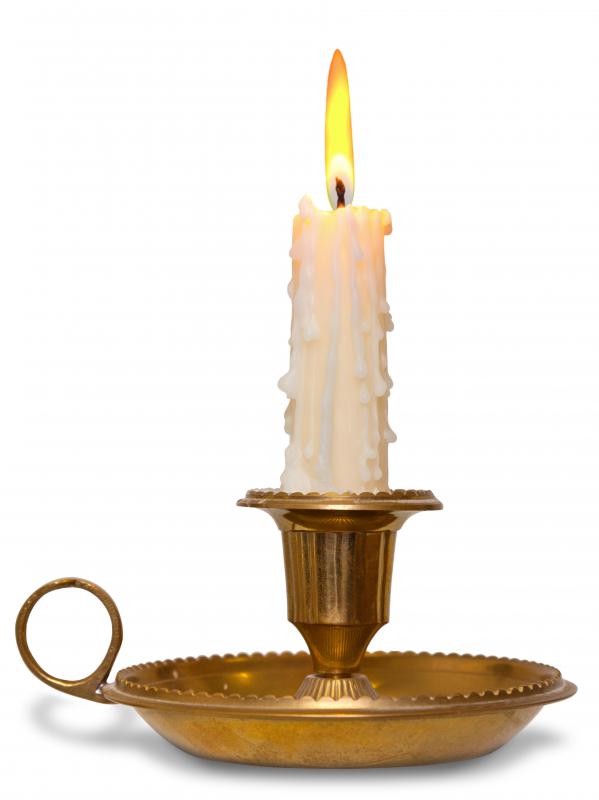 Once the candle wax is melted, dye and fragrance can be added to the wax. This stage of candle making is often the difference between a good candle and a bad one. In regard to scents, only pure fragrance oils, preferably meant for candles, should be used. It is also important to use no more than 1 ounce (28 grams) of fragrance per 1 pound (.45 kilograms) of wax. Anything more than this will not absorb into the wax and will inhibit the burning capabilities of the candle. Dyes should be added slowly and mixed into the melted wax thoroughly to ensure an even color. As noted above, the temperature of the melted wax is kept between 170° Fahrenheit (76° Celsius) and 185° Fahrenheit (85° Celsius) during the mixing.
Once the candle mixture is smooth and even, it is poured into lightly oiled molds. For a candle that will not stay in the cast, it is important that it has no ridges and the opening is slightly larger than the bottom; this will ensure that the candle will be easy to remove. Certain wicks are placed in the mold before the wax is poured, while others are slid in and suspended after, when the wax is still melted.
At this stage of candle making, the candles are left to cool until hard. Once they are completely cool to the touch all over, they are ready to be used. If additional colors are desired or the top of a candle is caved in, another pouring of wax is necessary. If two pours are needed, it is essential that the mold is not filled to the top in the first stage of candle making. For the second pour, the wax mixture is heated to 10° hotter than the initial pour; this ensures that the candle is seamless and burns evenly. Once it is cool, the candle making process is complete.
Candle wax may be poured into a base or pot rather than a mold.

Candle making was a necessity before electricity was used in homes.

Some candles are made by dipping wicks in hot wax.