What is the Nutritional Value of Bread?
Although the nutritional value of bread can vary among different products, it is typically high in carbohydrates and low in fat and protein. While neither white nor white breads are especially high in fiber, whole wheat breads usually contain more than white breads. The bread found in supermarkets is fairly low in sodium and usually contains no cholesterol or saturated fat. It offers small amounts of some B vitamins and a few necessary minerals. In the United States, bread is often enriched by manufacturers and contains added B vitamins such as B1 and folate.
Most of the calories in bread come from carbohydrates, which are a major part of the nutritional value. A typical slice of supermarket bread contains about 70 calories, with a few calories from fat and protein. White bread is a poor source of fiber and offers only about 1 gram (g) per slice, while whole wheat bread contains about 2 g.
The nutritional value of bread includes small amounts of some of the B vitamins and usually no vitamin A or C. Small amounts of the B vitamins occur naturally in wheat flour, such as vitamins B1, B2, and B3. These amounts are usually somewhat higher in whole wheat breads, but not as high as the level of B vitamins found in enriched breads.
A slice of bread contains small amount of minerals such as iron, manganese, and selenium. Whole wheat breads are generally higher in minerals and are much better sources of selenium and manganese as well as a fair source of magnesium, while refined white breads contain next to none. Refined and whole wheat breads contain small amounts of the mineral calcium. Whole wheat, not white, bread contains about 5 percent of the U.S. recommended daily allowance (RDA) for zinc and copper.
In the United States, the nutritional value of bread is increased in many cases by adding vitamins that were lost in processing flour. These include vitamins B1, B2, and B3, as well as another B vitamin known as folate. Such breads are also enriched with the mineral iron. Although enrichment helps replace some nutrients that are lost when flour is refined, it doesn't replace some others. Enriched white bread is lower in other minerals and fiber that are retained in whole wheat bread.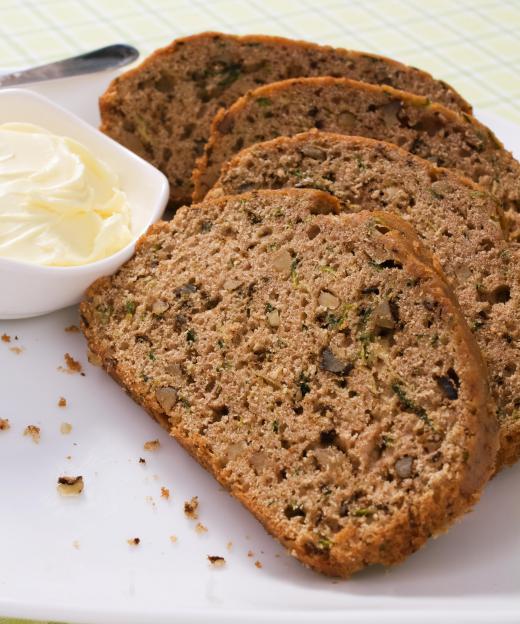 Homemade bread recipes sometimes call for dairy products or eggs, which increase the number of calories. Recipes that include adding sugar will also be higher in calories. Some cookbooks and other sources give the nutritional value of bread in specific recipes, but many do not.
AS FEATURED ON:
AS FEATURED ON:

By: SATYRJA

Bread is high in carbohydrates.

By: Maurice Metzger

Bread is generally low in fat and protein.

By: dreambigphotos

Bread includes small amounts of B vitamins, as they occur naturally in wheat flour.

By: m.u.ozmen

Whole wheat breads usually contain more fiber than white breads.

By: Sergii Moscaliuk

White bread generally contains the least nutritional value of all the bread varieties.