What is the Korean War Veterans Memorial? (with picture)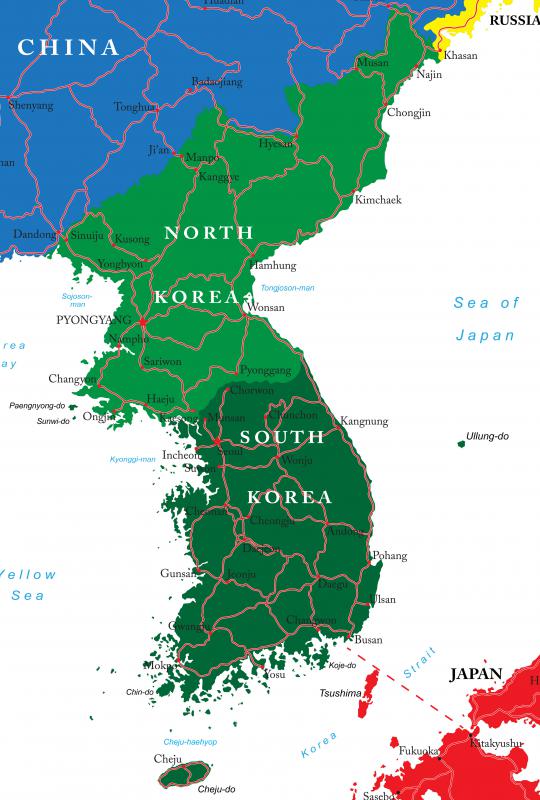 The Korean War Veterans Memorial is an area in Washington, D.C. on the National Register of Historic Places. It is dedicated to the servicemen who died or were wounded during the Korean War (1950-1953). The very distinct memorial features slightly larger than life-size figures in the likeness of soldiers walking through rough terrain in full battle uniforms. There are also several walls and memorials with the names of the dead, wounded, and missing.
Authorized by United States Congress in 1986, the Korean War Veterans Memorial was built in the shape of a triangle culminating in an intersection with a circle. The 164 foot (50 meter) long walls are made of highly polished granite from California and depict sandblasted images from archival photos of the conflict. A reflecting pool, called the Pool of Remembrance, is present within the circle at the tip of the triangle. Several benches and inscriptions surround the pool, many with the numbers of soldiers killed, wounded, and missing. Further, a nearby plaque reads, "Our nation honors her sons and daughters who answered the call to defend a country they never knew and a people they never met." Another inscription reads, "Freedom is not Free."
Within the triangle of the Korean War Veterans Memorial stand 19 stainless steel statues. They are approximately 7 feet (2 meters) tall and represent soldiers from different branches of the military. Each statue weighs about 1000 pounds (453 kilograms). They were designed by Frank Gaylord, and they appear to be marching through the rough terrain of North and South Korea; the plants are actually juniper bushes and granite strips.
The Korean War Veterans Memorial is located in Washington D.C.'s West Potomac Park, not far from the Lincoln Memorial and very close to the Reflecting Pool on the National Mall. The memorial is a stark reminder of the armed military conflict between Koreans from the north and Koreans from the south and the first major conflict of the Cold War. The conflict, which claimed the lives of over 54,000 American troops and wounded another 103,000, was fought between the United States-occupied south and the Soviet-occupied north. The conflict turned to all-out war after skirmishes and battles near the 38th Parallel, the dividing line established by the United States after Japan's surrender during World War II. After the North Koreans invaded the south, the United States stepped in to repel the attack. China became involved shortly thereafter, and the Korean War began.
Today, the Korean penninsula remains divided between communist-controlled North Korea and free market-oriented South Korea.