What Is the Ice Cream Industry?
The ice cream industry refers to a portion of the dairy industry responsible for the innovation, production, and distribution of this popular frozen dessert. The business can be quite competitive, and ice cream companies work hard to keep attracting business with new flavors and ideas. Efficient manufacturing ensures that every batch is made according to quality standards, and the industry also involves franchising, as well as moving product shipments to a variety of retailers to keep up with regular customer demand.
Ice cream sellers range from major grocery store chains to small specialty shops, and a wide variety of brands are often mixed and produced according to ice cream companies' exact specifications. Many brands are made in large manufacturing plants. The process generally begins with procuring ingredients such as milk, sugar, and various flavoring agents. Once all of these ingredients pass quality standards inspections, they are mixed into various recipes before packaging and shipping.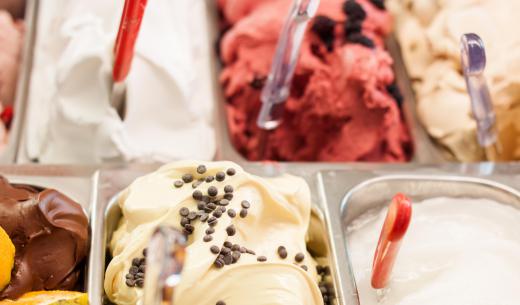 Producers sometimes focus on creating super-premium ice cream that has a higher amount if butterfat than standard recipes. This variety is also sometimes made with specialty flavor ingredients, and it is factory packed with a smaller amount of overrun within each container. Overrun refers to the amount of air within each ice cream carton. Since super-premium products carry some higher initial production costs for the ice cream industry, it generally is sold for slightly higher prices and is considered a richer indulgence dessert item.
Another important component of the industry is flavor innovation. Ice cream brands generally need to keep coming up with new flavors to stay competitive, and some company owners undertake this experimentation themselves. Others enlist the help of a chef to develop new flavor combinations that will sell well.
The industry also has a franchise component. Aspiring ice cream shop owners with the required capital can potentially reap substantial profits from the market. Many well-known brands have start-up opportunities that give owners the needed help and support with their endeavors. Such business arrangements often benefit both parties and are one of the main avenues the ice cream industry uses to keep building new customer bases.
AS FEATURED ON:
AS FEATURED ON:

By: apelavi

New flavors help brands stay competitive.

By: stockyimages

The ice cream industry includes franchise opportunities.