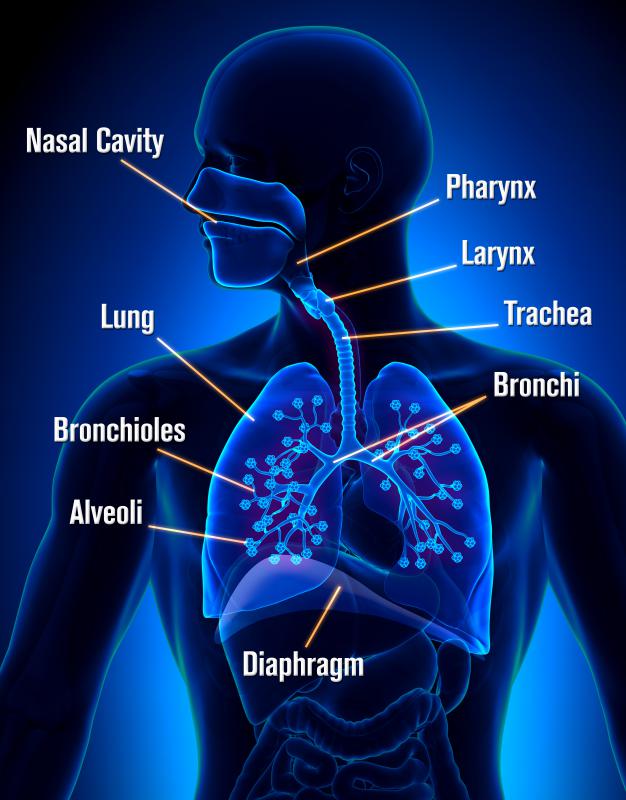 The hypopharynx is the area immediately below the posterior of the mouth, called the oropharynx, and it also is below the area posterior to the nose, called the nasopharynx. It can also, however, be correctly described as the area immediately above the openings of both the windpipe and the esophagus, better known as the "food tube." This area, along with the nasopharynx and the oropharynx, is one of three divisions of an entire area referred to as the pharynx. Laypeople tend to refer to the hypopharynx as the deep throat.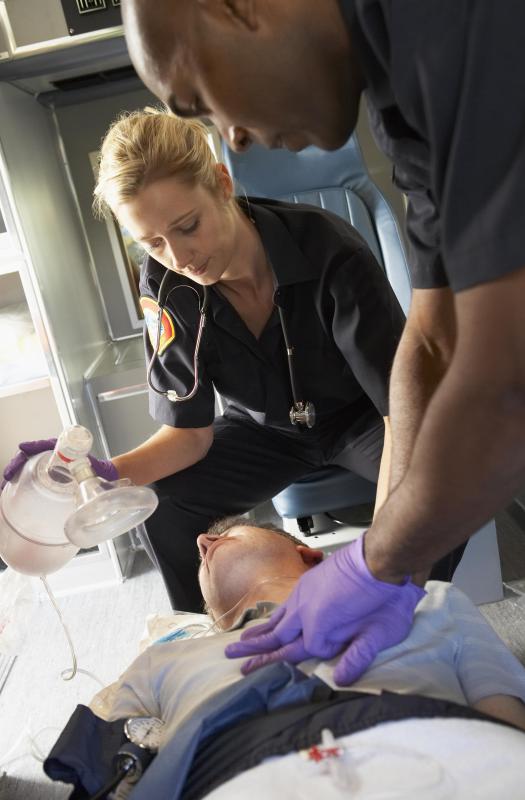 This area can be considered a part of the respiratory system and a part of the digestive system because of its proximity to the windpipe, which carries air into the lungs, and its proximity to the esophagus, through which food passes from the mouth into the stomach. Emergency medical technicians (EMTs), paramedics and other healthcare providers almost always associate the hypopharynx with the respiratory system because it is part of what is known as a person's airway. Obstructions in the hypopharynx can partially or totally block the airway, creating a medical emergency because air is not able to pass into the trachea to reach the lungs.
Special medical instruments have been designed to permit healthcare providers to see the hypopharynx in order to perform emergency life-saving procedures for patients who are not breathing adequately or are not breathing at all. For example, an endotracheal tube can be placed directly into the trachea to ventilate the lungs of a patient who is not breathing. This is a life-saving procedure, but it can also be a very dangerous one because if the healthcare provider performing it cannot clearly see where he or she is placing the tube, the mistake of placing it into the esophagus instead of the trachea might be made. This would cause ventilation of the stomach instead of the lungs and can quickly cause brain damage or death of the oxygen-starved patient.
Although the hypopharynx is not an organ, the tissues of this area can suffer damage just like those of organs. A specially designed tube also figures among the medical instruments used in the airway of a non-breathing patient. If the EMT or paramedic does not properly lubricate the tube, damage to the walls of the hypopharynx can occur. Suctioning the airway of a patient also involves the medic working in the hypopharynx, where vomitus, foreign objects and even teeth that were broken during an accident might be lodged, causing an obstruction.
The hypopharynx plays an important part in both the digestive and respiratory systems.

Issues in the hypopharynx region may prevent a patient from breathing normally.

Young children often swallow foreign objects which can then become stuck in the hypopharynx.