What Is the History of the State Flag of South Carolina?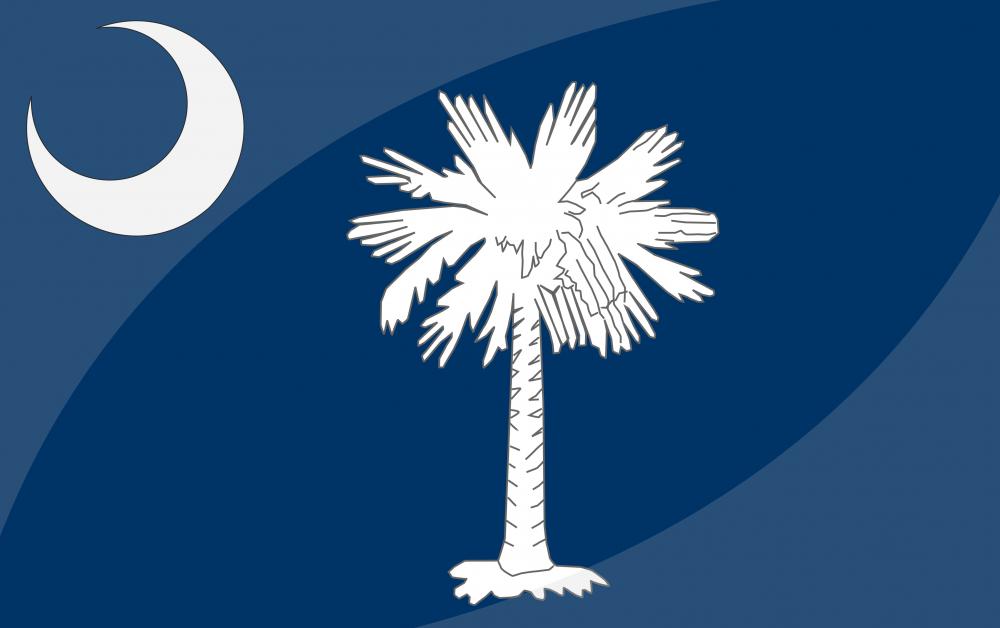 The state flag of South Carolina includes the crescent, the palmetto tree, and the state's secession from the Union during the Civil War. The crescent was first used as a symbol for the state before it was officially a part of the Union. The palmetto tree was a symbol of the state during the American Revolution, but it was not made an official part of the flag until much later. The current flag was created out of necessity when the state seceded from the Union during the Civil War.
The state flag of South Carolina has a blue background with a white crescent shape in the corner and a palmetto tree in the middle. The crescent symbol first appeared in the state in 1765 on the banners of protesters who were reacting to the Stamp Act imposed on them by the British. The banners had a blue background with three crescents across it. In 1775, Colonel Moultrie was asked to create a state flag that could be used by troops fighting against the British in the American Revolution. He chose a blue background with one silver crescent in the middle, which coordinated with the crescent that appeared on the caps and badges of the soldiers.
South Carolina's state tree, the palmetto, also became an important symbol of the state during the Revolution. Since it was abundantly available in the area, the wood of the palmetto was used to build a fort at Charleston Harbor on Sullivan's Island. Colonel Moultrie led troops in defending this fort against an attack from the British in 1776. The British shot cannonballs at the fort from their ships in the harbor, but could not break through the walls because the soft yet strong palmetto wood absorbed the force of the bombardment instead of breaking down. Its important role in the state's victory made the palmetto a revered symbol of the state from that point forward.
After the Revolution ended and the United States became an independent country, the state flag of South Carolina continued to be the design created by Colonel Moultrie with the single crescent shape. In 1861, South Carolina seceded from the Union and decided to create a new design to symbolize the new independent country they were creating. The new design simply added a palmetto tree to the center and moved Colonel Moultrie's crescent to the corner. Even after the Civil War ended and the country became united again, the state flag of South Carolina retained this design.
The South Carolina state flag.

South Carolina's first flag was adoped in 1775.