What is the Hepatic Portal Vein?
The hepatic portal vein is a major blood vessel in the abdomen, acting as a collection point for blood from the digestive tract and routing this blood into the liver. Almost all the blood passing through the digestive tract ends up in this vein before being circulated back into the body, allowing the liver to filter the blood and remove toxins and begin metabolizing substances absorbed through the gastrointestinal tract. It is important to note that despite the name, this structure is not a true vein in the anatomical sense, as it does not return blood to the heart.
People may refer generally to the hepatic portal vein as simply "the portal vein," although it is not the only portal vein in the body. A number of smaller blood vessels act as tributaries to feed this vein, including the splenic vein and the superior mesenteric vein. These vessels join together to form the short, thick hepatic portal vein, and the vein splits, feeding the blood to various regions of the liver for processing. Blood drains from the liver through the hepatic vein, and this blood will be purified, as it has already gone through metabolism in the liver.
The phenomenon of processing blood in the liver is known as the first pass effect. Certain medications cannot be ingested because when they are absorbed through the intestines, the liver processes them and renders them useless. These medications must be administered in other ways, such as intravenously, transdermally, or through direct absorption in the mucus membranes, so they bypass the liver's metabolism, giving them a chance to act in the body.
Numerous health conditions can involve the hepatic portal vein and disorders of this vein can be associated with serious medical issues. Cirrhosis commonly leads to portal hypertension, a rise in blood pressure in this vessel that can have dangerous consequences for the patient. Among other things, patients with liver problems can develop ascites, which are buildups of fluid in the abdomen, as a result of complications involving the hepatic portal vein.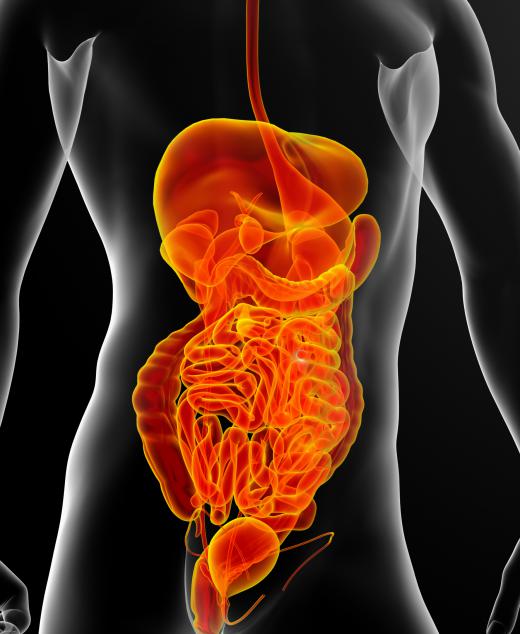 This vein can be visualized during surgical procedures involving the liver and may be visible on medical imaging studies as well. Assessing portal vein health may be recommended in cases where a doctor suspects a patient has portal hypertension or another problem. In patients where liver damage is contributing to problems with this vein, controlling the liver condition is necessary to give the vein an opportunity to recover.
AS FEATURED ON:
AS FEATURED ON:

By: Marcelo Reis

The hepatic portal vein routs blood into the liver.

By: nerthuz

The term hepatic refers to the liver.

By: maya2008

Almost all blood that passes through the gastrointestinal tract ends up in the hepatic portal vein before being circulated back into the body.

By: peterjunaidy

Cirrhosis commonly leads to portal hypertension.