What Is the Difference between Prayer and Meditation?
Although some people define the difference between prayer and meditation as a religious interpretation, others believe that the difference lies in the physical act of each practice itself. The real difference in both cases is not in the words that are said or in the method that is used. Instead, the difference between prayer and meditation is defined by the personal beliefs of the individuals exercising each practice.
A prayer is a request or wish that is addressed to a divine being. It often asks for information or seeks granting, although it might also give thanks for something that has been received. This act might involve both the mental psyche and the physical body, much like meditation does. Praying might be practiced while kneeling, sitting or standing during worship. The main goal during prayer is to clear the mind of all outside thoughts and to focus on the prayer itself as well as the request being made.
By contrast, meditation is used to focus the mind in an attempt to contemplate the inner-self and to center a person's own awareness. Meditation might be performed, much like prayer, in a group environment or individually by oneself. Many forms of physical meditation exist. Some meditation methods utilize sitting, standing or walking. The primary focus of meditation is not to obtain anything from a divine source but to reach a state of relaxation.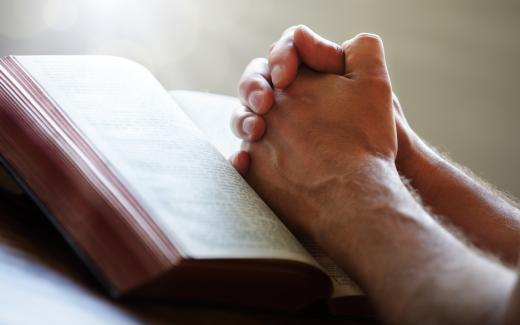 Both prayer and meditation are believed to have mental and physical health benefits. Meditation has been proved to assist with stress relief, pain reduction and breath control. It also has been linked to changes in metabolism, blood pressure and brain activity. Prayer likewise has been credited with assisting practitioners with stress relief, depression and maintaining general good health.
Some religions utilize both prayer and meditation together in a practice known as prayer meditation. This form of prayer requires the practitioner to sit quietly and relax while praying. The incorporated aspect of meditation assists in focusing the mind prior to beginning a prayer.
Prayer beads might be used during prayer meditation. Similar to the Catholic rosary, prayer beads are a series of beads strung together by thread. To use prayer beads, a practitioner holds the beaded string between his or her hands while praying a formulated delivery of words. These words, when said in a repetitive process, assist in focusing the mind and relaxing the body.
AS FEATURED ON:
AS FEATURED ON:

By: Adam Jones

Morning prayers at the Western Wall in Jerusalem.

By: Brian Jackson

A prayer is addressed to a supreme deity.

By: Photographee.eu

Rosary beads are used in Catholic prayer.

By: petarpaunchev

Meditation is used to focus the mind, and does not have to be associated with any particular religion.