What is the Difference Between Alternative Dispute Resolution and Arbitration?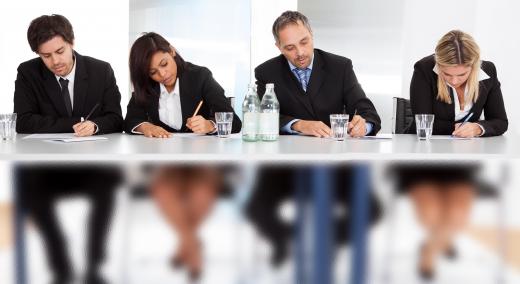 Alternative dispute resolution and arbitration are often terms that are linked, if not always well defined. Both seek to find resolutions to legal issues without resorting to traditional litigation. Alternative dispute resolution, also known as ADR, is a term used to describe a wide field of options for non-litigious solutions, while arbitration is a specific type of ADR.
Both forms of dispute resolution tend to focus on legal issues related to civil disputes, since most criminal trials are necessarily tried in a court. Civil legal cases are expensive in a variety of ways, including financially, emotionally, and in terms of time. In many cases, lawyers and legal experts advise clients in nearly every area of law to seek ADR before resorting to a court-tried case. In some cases, especially in issues of contractual law, the agreement to settle any legal problems through alternative dispute resolution is often built directly into the initial contract.
The field of ADR includes several different methods of working out legal differences. Some, like negotiation or mediation, are not binding legal agreements. While using these methods can sometimes help lead to a peaceful resolution, it can also end up in a decision to move on to a formal court resolution. This is one area where the more general field and arbitration diverge; arbitration results in a binding legal agreement that is usually not subject to appeal.
Like most forms of ADR, arbitration relies on the primary parties involved to behave reasonably and work issues out with some assistance. Parties in arbitration may use attorneys, but frequently choose to simply handle the matter themselves. The decision in an arbitration is made by a neutral third party or three person panel, all of whom are legal professionals. In panel arbitration, each party gets to pick one arbitrator, while the third is a joint decision by both parties or is picked by the two selected arbitrators.
Another important distinction between alternative dispute resolution and arbitration is the scope of responsibility given to the arbitrators. In other forms of ADR, such as mediation, a neutral third party representative may be used to hammer out the details of a legal agreement but does not necessarily have the power to make final and binding decisions on a case. Other forms of ADR do not require an appointed third party at all, but rely on the principal parties or their attorneys to come to an equitable agreement.


By: apops

An arbitrator or arbitration panel acts similarly to the way a judge in a courtroom would act.

By: endostock

Alternative dispute resolution (ADR) refers to a process by which disputing parties agree to have the matter settled, in a non-judicial forum, by an impartial third party.