What is the Difference Between a Squat and Leg Press?
Building leg muscles is one of the best methods of gaining core strength and general muscle mass. The squat and leg press exercises are designed to strengthen the quadricep muscles. The primary difference between the two exercises is the positioning of the weights during the lift and muscles required to perform the exercise. A squat is a compound movement that requires the weight to be high on the shoulder area. The leg press machine is an isolation exercise that requires the bodybuilder to push the weights below with his feet.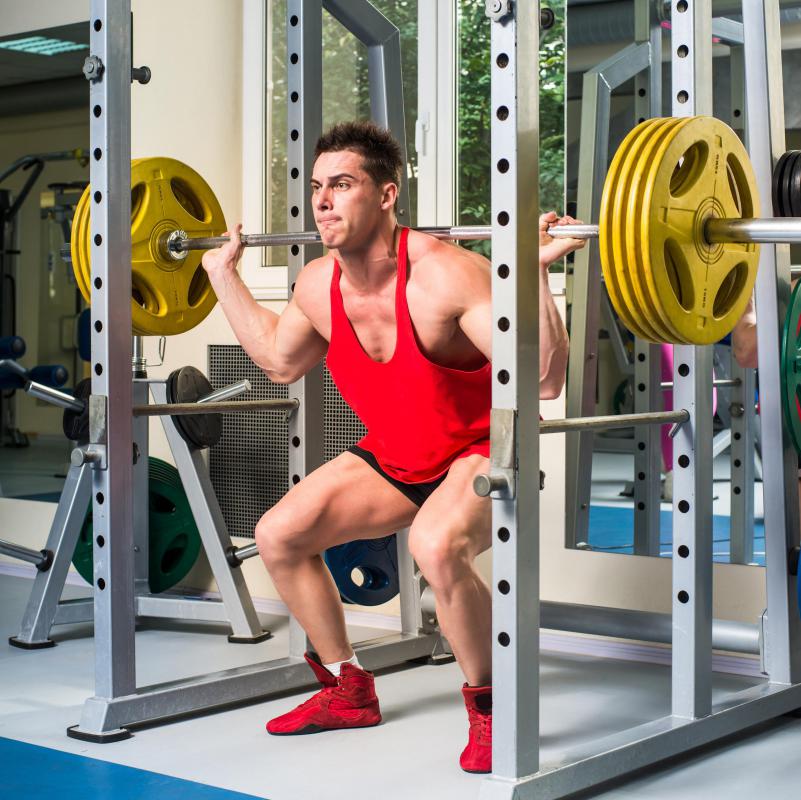 There are special weightlifting machines for both the squat and leg press exercises. These machines provide support for the weights, which keeps the weightlifter safe. A squat rack requires the body builder to place the weight on a dumbbell, which is placed on his shoulders during a squatting movement. The leg press machine is a sliding floor plate connected to weights that is pushed upward from a lying position.
One of the primary differences between the squat and leg press is the need for special equipment. A squat does not require any special equipment. It can be performed with a dumbbell, a bench bar, and squat rack. The leg press requires a special leg press machine. That is because the weightlifter is required to perform this exercise in a lying position, where he pushes the weights away from his body, toward the sky. This machine contains special weight bars that securely hold weight plates.
Another key difference between the squat and leg press is injury risk. A leg press machine is much easier on the body and less likely to cause back injury than a squat. This is because the leg press is an isolation exercise that focuses on the quadriceps only. The squat is well known as a compound exercise, which works the back, shoulders, quads, and thighs.
The squat is the most well known strength-gaining exercise. This exercise requires core strength to push the weight up from a squatting position. The leg press machine is a slider machine that pushes the weight in a predefined angled position. The machine keeps the legs and body into a locked position, which does not promote overall core strength.
The squat and leg press are widely used by bodybuilders for building leg muscles. The leg press has a distinct advantage on the squat exercise for creating large quad muscles. This exercise only focuses on the quad area of the legs. The squat, however, is a compound exercise, which will cause a more symmetrical mass gain on several leg muscles including the butt, back, and thigh.
Squats can be done with or without weights.

Performing squats can help strengthen the thighs and other muscles of the legs and lower back.

There are weightlifting machines that can be used for both squats and leg presses.