What is the Cricoid Cartilage?
The cricoid cartilage is a ring-shaped structure that forms the lowermost portion of the larynx, which is commonly known as the voice box. Cartilage is a very tough connective tissue that covers the joint ends of bones and acts as a surface for articulation, allowing the joints to move smoothly. It is not as rigid as bone and partially or fully forms some of the flexible structures of the body. These structures include the external ear, the septum or dividing wall of the nose, the connections between the ribs and the sternum and the multiple horseshoe-shaped structures that provide shape, support and some protection for the trachea, more commonly known as the windpipe.
All tracheal cartilage except for the cricoid cartilage completely wraps around the windpipe and easily can be felt in the front of the neck. To do so, it usually is best to begin by touching the middle part of the neck to palpate the voice box, where strong vibrations of the vocal cords can be felt during speech. The structure directly underneath is the cricoid cartilage, which, although flexible, also is rigid in adults. Children have a much less rigid cricoid cartilage that will harden as they mature.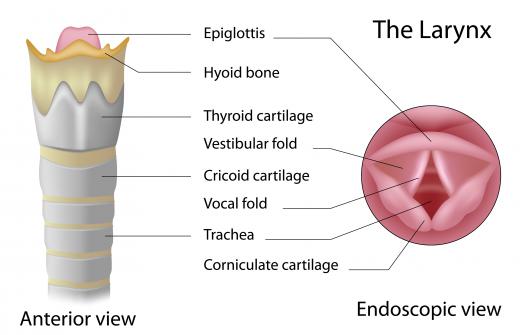 Emergency medical technicians (EMTs) and paramedics are among the health care providers that most frequently must ensure an open airway and adequate respiration in emergency medical situations when providing care for a patient who might require what is known as endotracheal intubation. This refers to the invasive insertion of a tube into the trachea for complete control of the airway and superior ventilation. During this procedure, an EMT or paramedic often will apply what is called cricoid pressure. The application of direct pressure on the cricoid cartilage by pressing with the index finger and thumb compresses the esophagus, which is the structure that leads to the stomach and sits directly behind the trachea.
There are two reasons for applying pressure to the cricoid cartilage. It reduces the risks of a patient vomiting during intubation, which can lead to life-threatening complications such as pneumonia. It also brings the vocal cords into the view of the medic performing the procedure. This allows him or her to avoid the danger of accidentally inserting the endotracheal tube into the patient's esophagus instead of into the windpipe. A study of the respiratory system that includes graphic images or detailed diagrams should show the exact location and appearance of the cricoid cartilage.
AS FEATURED ON:
AS FEATURED ON:

By: Alila Medical Media

The cricoid cartilage forms the lowermost portion of the larynx.

By: arsdigital

The trachea is also called the windpipe.

By: sudok1

Applying pressure to the cricoid cartilage reduces the risk of vomiting during patient intubation.