What is the Connection Between Vitamin D and Psoriasis?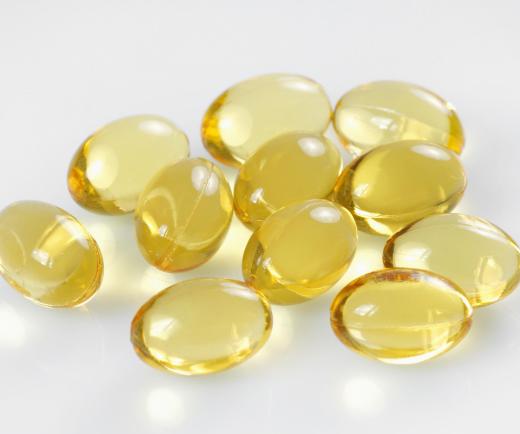 Vitamin D and psoriasis are connected in a number of different ways. Some studies suggest this skin condition may be caused by or associated with a deficiency in this necessary vitamin, and it is also used in topical preparations to treat psoriasis outbreaks. Patients should be aware that taking too much vitamin D can be dangerous, as it is possible to overdose and develop health problems as a result. Any therapy involving this vitamin should be cleared with a doctor, and people should discontinue if they develop harmful side effects.
Psoriasis involves the development of red, scaly plaques of skin. Once it appears, it can be difficult to get rid of, and may spread over time to other areas of the body. Patients in treatment for psoriasis commonly start out with conservative measures, eventually getting more aggressive about management of the condition over time. The efficacy of available treatments is highly variable. Some patients experience relief on medications and regimens that do not benefit others at all. Studies on vitamin D and psoriasis have explored possible connections, but have been hindered by the variable ways patients respond to treatment.
In the case of vitamin D and psoriasis, people with this skin condition appear to have lower levels of vitamin D in their bodies. Studies using phototherapy were initially believed to improve the skin by elevating vitamin D levels, but follow-up suggested the light was actually more important than the vitamin. Some patients end phototherapy with low levels of vitamin D, but improved psoriasis, showing that the light clearly was the determining factor in improvement.
It is possible, since there is a genetic component, that people who have difficulty metabolizing vitamin D are also more susceptible to psoriasis. This may be why the condition can be seen in people with vitamin D deficiencies, but it doesn't respond to oral forms of the vitamin. Topical applications of vitamin D do appear to play a role in psoriasis treatment, however. Vitamin D and psoriasis are linked in the sense that skin creams with vitamin D or analogues can soften skin, reduce irritation, and help resolve flareups.
The connection between vitamin D and psoriasis is under investigation. This skin condition appears to be influenced by a number of factors. Connecting the dots to find out why some people get it, and why the severity can be so variable, will allow researchers to develop appropriate treatments. Patients in treatment may find it helpful to work with a psoriasis specialist who will have access to the latest information on treatments and may be able to provide more treatment options for patients.


By: Mara Zemgaliete

Vitamin D supplements.

By: chee siong teh

A bottle of vitamin D supplements.