What is the Best Way to Say Goodbye to Co-Workers?
People move on from jobs for a number of reasons: retirement, moving to a new location, or even layoffs within the company, just to name a few. It is nice to say goodbye to co-workers in an appropriate way based on their reason for leaving, as well as to make them feel appreciated for the time they spent at the company. One of the best ways to say goodbye to your co-workers is to have a special lunch or dinner out at a restaurant for the employees.
Of course, this is only appropriate when one is saying goodbye to co-workers who are leaving on good terms, such as for a promotion to another location or for retirement. Many companies celebrate a co-worker's promotion with a lunch at the office; the employees might choose to go out for lunch, order in from a good restaurant, or even make a potluck lunch were everyone brings in one of their favorite foods that they make. A potluck lunch can be an especially personal way to say goodbye to co-workers.
Of course, depending on the company, a more formal dinner out at a restaurant might be a better way to say goodbye to co-workers. This gives employees the chance to talk and mingle more freely, without feeling as if they are still on company time. It is not necessary to share a meal together to say goodbye to a co-worker, however; there are other appropriate ways as well.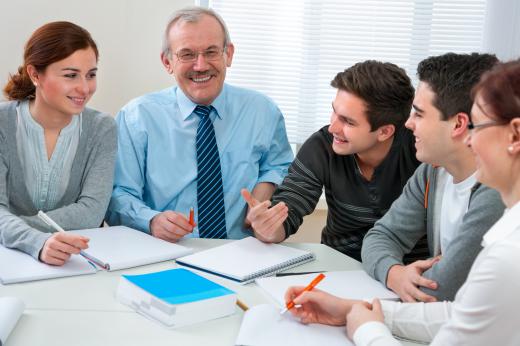 It might be nice to get someone a goodbye card congratulating them on their achievement, or thanking them for their time spent with the company. A gift such as a nice bottle of wine, a gift basket containing fruits or even other foods such as pastas, sauces, and cheeses, or something for their desk in their new office such as a nice set of pens or a business card holder, can all be appropriate.
Everyone can chip in for these gifts, or they may be purchased individually. Again, it depends on the size of the office and the closeness of the other co-workers. Keep in mind that if someone is leaving because of layoffs, termination, or for another negative reason, this type of response is not appropriate. In that case, any goodbyes should be done privately in order to avoid embarrassment. It is always nice, however, to make someone feel appreciated for their hard work, and as if they will be missed.
AS FEATURED ON:
AS FEATURED ON:

By: archana bhartia

Gift baskets are often given to workers at going away parties.

By: Alexander Raths

Co-workers can get together to send off a co-worker.

By: michaeljung

In some work environments, a less formal farewell may suffice.

By: .shock

A potluck meal is a great way to celebrate the departure of co-workers.

By: Froggy

People may bring in a casserole to help say goodbye to a co-worker.

By: jamierogers1

Baking a co-worker a pie is a nice way to say goodbye.

By: jillchen

Taking a co-worker out for a round of drinks is a common way to say goodbye.