What is the Best Way to Remove Unwanted Facial Hair?
The best way to remove unwanted facial hair depends on the location and type of hair, skin type, and a person's pain threshold. Cost is also a consideration. Unwanted facial hair can include growth on the chin, upper lip, cheeks, and between the eyebrows. Many people also remove hair from the eyebrows to shape them. Methods of hair removal include shaving, depilatory creams, pulling out hair at the root, and semi-permanent hair removal treatments.
Shaving is the fastest and easiest way to remove unwanted hair, and it's usually the most painless. Razors can irritate delicate skin, however, and used over many years they can make skin look tough and weathered. Hair that has been cut by a razor generally starts to grow back by the next day, and can look thicker because of the angle at which it was cut.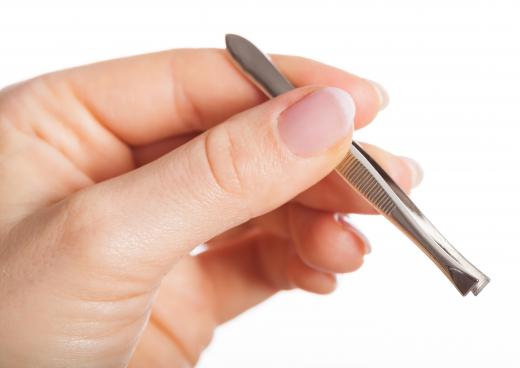 There are depilatory creams designed for sensitive facial skin. These creams use a strong acid or alkaline solution to dissolve the hair, which takes a few days to start growing back. Before using a cream on the face, it should be tested on a small area to see if there is any allergic reaction. Depilatory creams cause fewer ingrown hairs than other methods, and are an inexpensive way to remove unwanted facial hair.
Pulling hair out at the root is one of the most common ways to remove unwanted facial hair. For small areas such as around the eyebrows or on the chin, tweezers can be used to pluck out individual hairs. On larger areas, hot or cold wax or sugaring might be used. In these methods, a thick or semi-solid liquid is applied to the skin over the hair. A cloth is pressed over the area, which is then pulled off quickly with the hairs embedded in the wax or sugar. All of these methods are painful and can cause redness, rashes, irritation, and ingrown hairs, but treatment may only be necessary every four to six weeks.
Semi-permanent solutions for facial hair include laser treatment and electrolysis. In laser hair removal, a low laser light is applied to the skin. The hair is destroyed at the root, and it tends to grow back thinner and lighter, if at all. Electrolysis uses a needle with a small electrical current. The current travels down the hair and destroys the follicle, preventing the hair from growing back. Both of these ways to remove unwanted facial hair are expensive, uncomfortable and time-consuming, and it is important to find an experienced, reputable practitioner to avoid scarring.
AS FEATURED ON:
AS FEATURED ON:

By: Photographee.eu

Straight tip and slanted tweezers are often used for facial hair removal.

By: F.C.G.

Ingrown hairs can be caused by improper hair removal techniques.

By: bertys30

Threading is a popular technique for long-lasting facial hair removal.

By: gosphotodesign

Electrolysis is the most common type of permanent facial hair removal method.

By: April Cat

Shaving is the quickest way to remove unwanted facial hair.

By: MarkFGD

Plucking removes unwanted facial hair from eyebrows.