What is the Best Way to Paint Cabinets? (with pictures)
Painting cabinets is a fairly easy and inexpensive way to remodel a kitchen or bathroom. Applying a fresh coat of paint helps revive the look of old, chipped, or faded cabinets, and using a new color can completely change the feeling in the room. While painting cabinets is fairly simple, it can be a lengthy process and usually needs to be done in stages. Make sure you have all the necessary supplies and prepare the cabinets before you begin. A primer should be applied first to ensure the paint sticks well.
Proper Supplies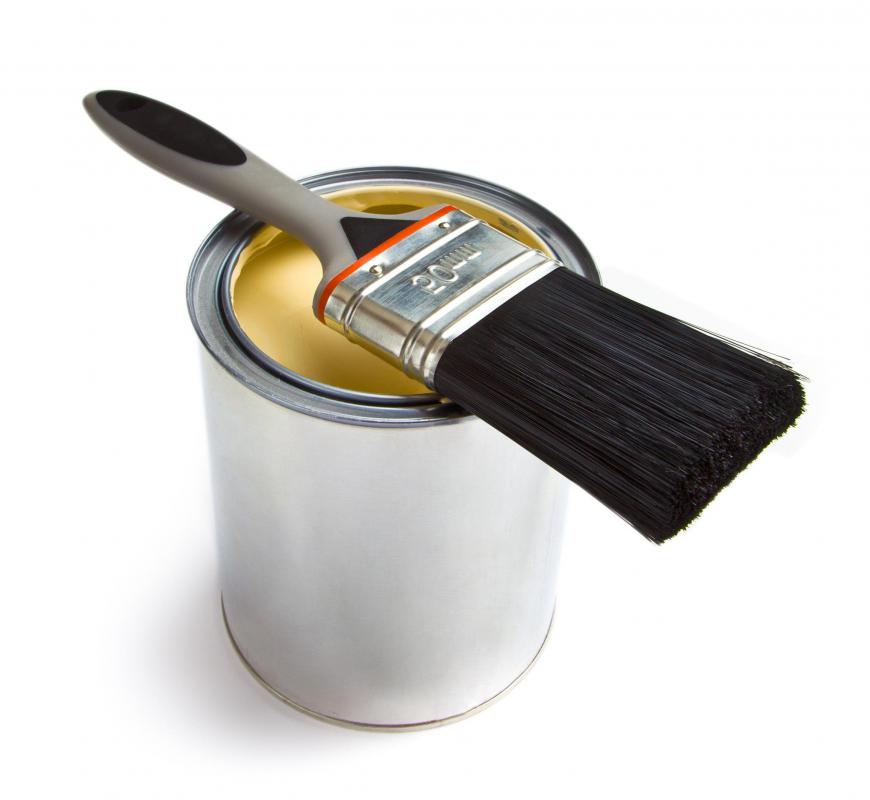 Start by gathering the necessary tools to paint cabinets. You'll need several paint brushes, and may want to use foam brushes and rolling pads; painting tape and rags or paper towels will also be needed for clean-up. Floor protection, such as newspapers or drop cloths, is a good idea, and you should also set up several tables covered with newspaper or other protective covering, for use when painting the cabinet doors. Of course, a can of bonding primer and several cans of the right color of glossy paint are also necessary.
Taking Apart the Cabinets
Before you start to paint cabinets, you should take the doors off and remove all of the hardware. The doorknobs, hinges, and their corresponding screws should be placed into small zippered sandwich bags and then put together in a larger bag. Taking the time to do this will help keep everything organized; labeling each bag can also make it easier to reattach them later, especially if some cabinets have different hardware.
Preparing the Surfaces
Once the hardware has been removed, you'll need to prepare the cabinets before you can paint them. Some mild sanding is often necessary, especially if the old paint or wood finish is exceptionally smooth and glossy. You just need to sand them enough to roughen the surface, allowing the new paint to adhere more easily.
After the doors and surfaces of the cabinets have been sanded, they should be cleaned with soap and water. This removes any debris, cobwebs, dust, and grease that may be built up. When the cabinets have dried completely, apply painting tape next to the edges of the cabinets on the walls, counter tops, and other surfaces. This keeps paint from going on where it's not wanted.
Priming Before Painting
Once sanded and cleaned, the cabinets are ready for priming. Brush on the bonding primer just like paint. It is usually best to use one brush for primer and different ones for paint. Two coats of bonding primer are typically recommended, with a four-hour drying time between applications.
This is where it becomes time consuming to paint cabinets. When painting the cabinet doors, for example, you'll need to apply primer to one side, allow it to dry for four hours, and then apply it to the other side. When timed correctly, two coats of primer can be applied to both sides of each cabinet door in one day.
Painting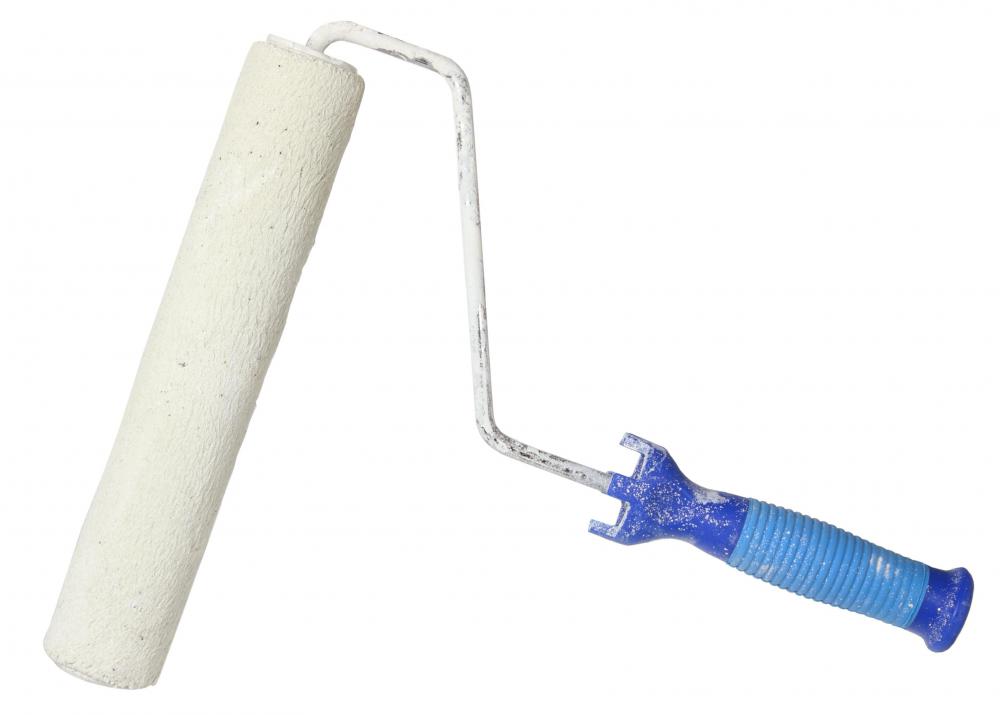 After the primer has dried completely on all appropriate surfaces, then you can paint cabinets with steady, easy strokes. Painters often use traditional brushes for this, though foam rollers can make it easier to avoid visible brushstrokes in the dried paint. Allow each coat of paint to dry for at least four hours between paintings, and plan to apply two to three coats. It's important to properly ventilate any room that is being painted, especially small bathrooms where fumes can quickly build up.
Wait at least a day for the paint to dry before re-attaching the doors to the cabinets. First put the hinges on the doors and then put the doors back onto the frame. It's important to make sure the hinges are tight so that the doors hang correctly. Then put any doorknobs back in place and remove the painting tape to reveal the finished cabinetry.
Supplies for painting.

Paint and a paint brush.

Paper towels will be needed for cleanup when planning to paint cabinets.

Old newspapers can be used as protective drop clothes when painting.

Painting cabinets is an inexpensive way to remodel a kitchen.

Painting cabinets may require purchasing paint rollers.