What Is the Best Olive Skin Makeup?
Olive skin tones require less makeup than fair skin tones, as this skin has darker undertones. Putting too many cosmetics on olive skin tones can often make a person look overdone. When choosing olive skin makeup, it is best to look for colors that complement the skin tone, ranging from eyeshadow to blush and lipstick. People looking for olive skin makeup should also consider light products to avoid a caked-on appearance.
All skin tones first need a base, such as foundation, to help to keep makeup in tact. Blemishes can strike those with olive skin, but they are not as noticeable as they are on fairer skin. It is not necessary to use a heavy base to cover up the face in the case of acne, but simply using a concealer made for olive skin tones will help to neutralize the redness. A variety of light foundations, mineral powders, and mousses are available within olive skin makeup collections. Tinted moisturizers are also a good alternative to wear during the hot summer months.
Neutral-colored eyeshadows complement olive skin tones well, and shimmery shades are a great way to add some definition to the eyelids. For a day look, individuals can choose one color to place on the entire eyelid. The smokey-eye is generally used for nighttime special occasions as it is very dramatic. Darker shadows can make people with olive skin appear drab when they are not used for the proper event, so care should be taken when selecting darker colors. More dramatic eye colors also require less color elsewhere on the face in order to avoid too much contrast.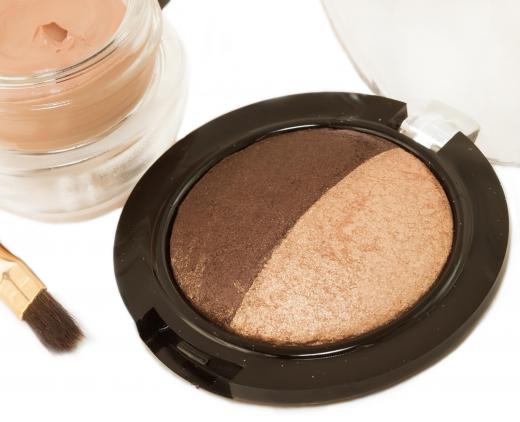 Although olive skin has a naturally bright look, wearing blush can make the face appear more warm and awake. Blushes in a coral or apricot color work best, because they complement the skin tone without making it look obvious that cosmetics are worn. The darker the eye makeup, the lighter the blush tone a person will want to wear. Blush can also be substituted with a bronzer, which is a popular summer cosmetic.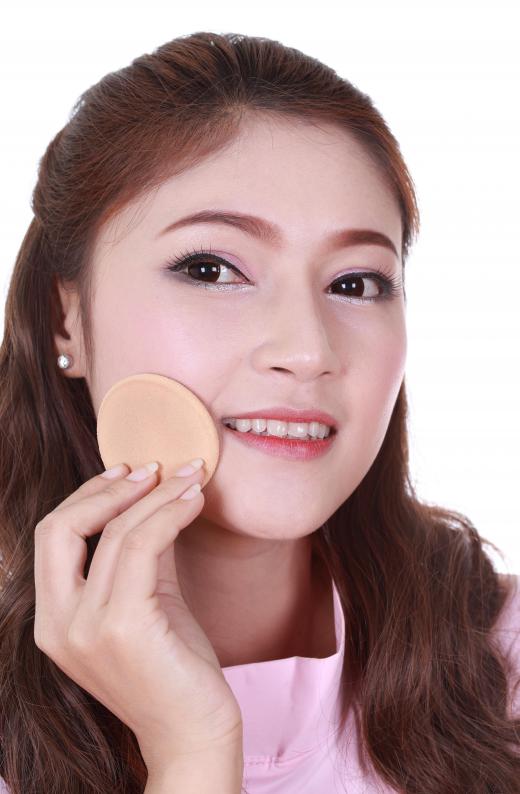 Olive skin makeup has a range of lipsticks, but the lighter colors are the best versions. These complexions are naturally bright in tone, so very little lip color is generally needed. Light berries and corals all complement olive skin just right, without overdoing it. Darker lip colors should be worn with lighter eyeshadows, just as light pinks and neutral-colored lipsticks work best with dark eye colors.
Once a person has chosen his or her primary makeup colors, the final touches can be added. A light bronzer can be applied around the cheeks and temples for an accentuated look. The lips and eyes can be lined in order to make a more dramatic appearance. Black mascara works best for olive skin tones, whether it is a lengthening or thickening version.
AS FEATURED ON:
AS FEATURED ON:

By: bst2012

A woman with olive skin applying lipstick.

By: anakondasp

Light bronzers work well with olive skin.

By: geargodz

Foundation, which covers up perceived skin blemishes, is the first step to applying makeup.