Thalassotherapy is a family of body treatments which are designed to utilize substances which are acquired from the ocean, such as seawater, marine mud, and seaweed. Many spas offer several thalassotherapy treatments, and in some regions spas dedicate themselves to offering just thalassotherapy, with an array of treatment options for clients to choose from. Numerous claims are made about the benefits of thalassotherapy treatments; the actual benefits vary, depending on the treatment and the persona administering it.
People have been using products of the ocean in healing for thousands of years. Many cultures with coastal access have integrated seaweed into their diets, for example, and have used marine mud, seaweed extracts, and other ocean products in various body treatments. The rise of thalassotherapy as a trendy treatment really took off in the 1800s, when several seaside spas in France started offering thalassotherapy treatments, making abundant claims about their benefits which attracted women from all over Europe.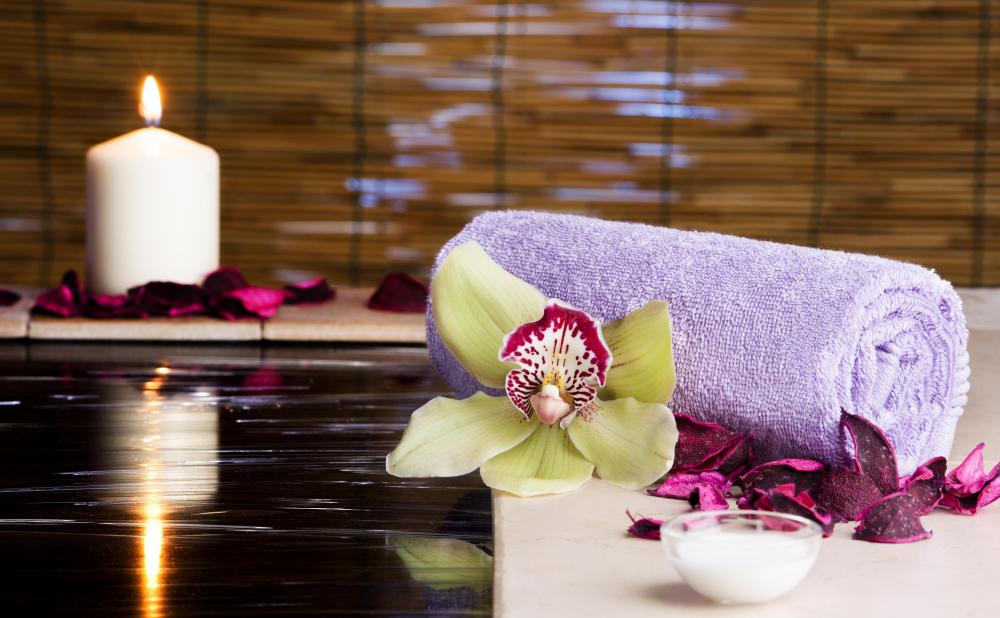 There are certainly some inarguable benefits to thalassotherapy. Seawater is rich in dissolved minerals, for example, and bathing in warm seawater can stimulate circulation, open the pores, and encourage absorption of these minerals. It can also relieve stress on strained joints, and when combined with massage, it can promote a general feeling of well being. Seaweeds and muds used in wraps and soaks also have high concentrations of dissolved compounds which can be beneficial for health.
The kind of services which you may receive at a spa which offers thalassotherapy can vary widely. Many spas offer warm seawater soaks, seaweed wraps, marine mud baths, and massage. It is also possible to find steamrooms with seawater, or to experience directed jets of warm seawater for a vigorous massage. Some spas may also have seawater cold plunges, best enjoyed after a stimulating sauna, and a few have developed their own unique spa treatments, like sea salt scrubs.
If you are interested in a thalassotherapy session, you have a number of options. You may be able to find a local spa which offers some treatments, sometimes bundled in a package for people who want, for example, a soak and a wrap. Some people like to create their own treatments at home, using muds and wraps which can be self-applied. You can also travel to a specialty spa which offers such treatments; France, Greece, and Italy are all famous for their thalassotherapy spas, allowing guests to combine a vacation in a beautiful place with pampering at the hands of skilled therapists.
Some spas offer cold seawater plunges after a sauna session.

Thalassotherapy is among the many treatments that may be offered at a full-service day spa.

Some European thalassotherapy spas include luxurious vacation packages.

A massage may be part of the body treatment services offered at a spa offering thalassotherapy.