Tai Chi Chih branched off in the early 1970s as a westernized version of the centuries-old Chinese Tai Chi Chuan, or Taiji Quan. This flowing series of 19 movements created by American Justin Stone originate from a single, stable pose. Performing these regularly is reputed by practitioners and some studies to reduce stress, improve immunity, and impart energy by balancing the body's "chi," the Chinese way of referring to the divine "air" or "breath" within.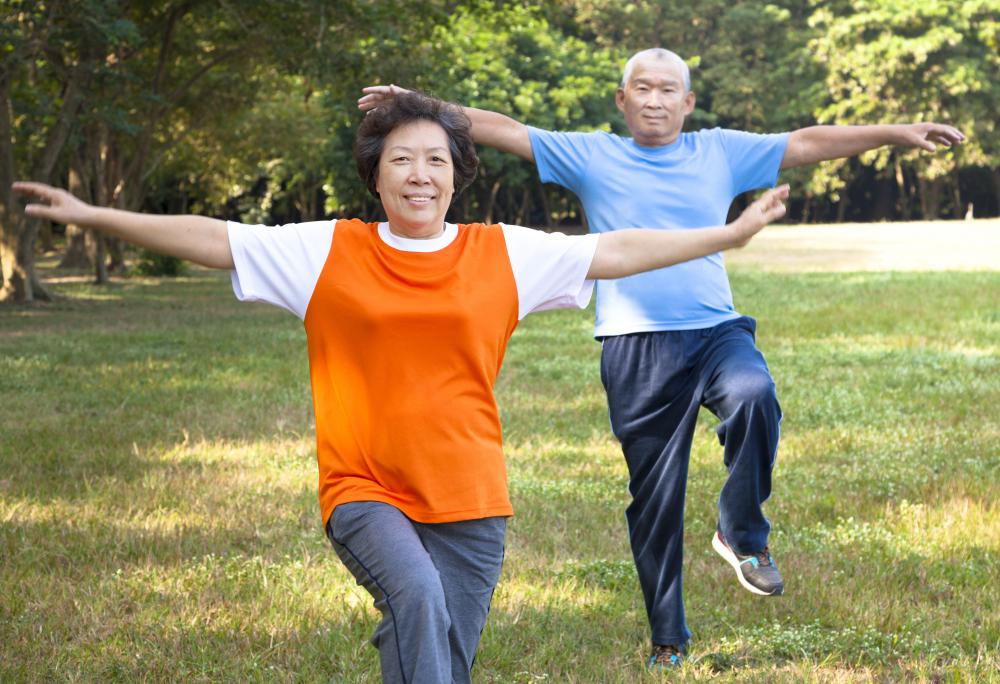 Standing in a simple central pose, with the feet comfortably apart, the 19 movements involve symbolic and gently flowing foot and hand motions, as opposed to Tai Chi Chuan, which has much deeper bending and more pronounced movements. Though standing is preferred, the bed- or chair-bound can perform variations of the movements, too. Learning the motions takes practice, so many enlist in a class with an instructor to guide them. Others turn to an online illustrated tutorials.
The names of the poses reflect the movements that are carried out. According to a video tutorial at creator Justin Stone's Web site, which certifies Tai Chi Chih teachers, softness is of utmost importance when performing the movements. The chi is evoked through slow, even progressions that focuses on what Stone calls, "the effort of no effort." As opposed to other forms in which the motions are snake-like, with swooping, exaggerated or alternating slow and quick movements, Tai Chi Chih, according to Stone, is subtle and unbending in posture.
The first movement is a simple rocking motion, performed for any number of repetitions, then on to a slight bend in the knees and the flapping motion of a bird. Again, this flapping motion is done for as long as the practitioner wishes. The rest of the movements, in order, are named: Around the Platter and a subtle variation; Bass Drum; Daughter on the Mountaintop; Daughter in the Valley; Carry the Ball to the Side; Push Pull; Pulling in the Energy; Pulling Taffy, in four variations; Light at the Temple; Joyous Breath; Passing Clouds; Six Healing Sounds; and, finally, a Cosmic Consciousness Pose. Each movement can be performed for a set number of times in sequence or in any order for as long as it feels right.
While Tai Chi Chuan has several series of movements that look a little like Tai Chi Chih, it has others in its 108-movement-arsenal that teach quick, defensive tactics or build muscle. Another name for the former style is "Supreme Ultimate Fist," and practicing it can be considered exercise. Tai Chi Chih, however, is said to give energy to the performer, not expend it, and it involves an understated approach.