Also called sushi-zu, sushi vinegar is a type of vinegar used to make sushi rice. Created by combining one or more rice-based liquids with other seasonings, sushi vinegar is often made from scratch by professional and amateur sushi chefs alike. Also available pre-made in specialty stores or online, sushi-zu is an essential ingredient in any type of sushi.
The main ingredient of sushi vinegar is rice vinegar. Although mild cider vinegar can be used as a substitute, white vinegar is not recommended because it is too strong and will overpower the other sushi flavors. Rice vinegar has a more subtle flavor which allows the rice to be seasoned without dominating the taste of the sushi dish in which the rice is used.
Salt, either simple table salt or sea salt, is always included in sushi vinegar. Sugar is often added to sweeten the liquid, but more authentic vinegars use a sweet rice wine, such as mirin, as the sweetening agent. If sugar is added, it should be used sparingly since the finished sushi-zu should not taste of sugar. Sake, another type of rice wine, is also frequently included. Kelp might be added for additional flavoring as well.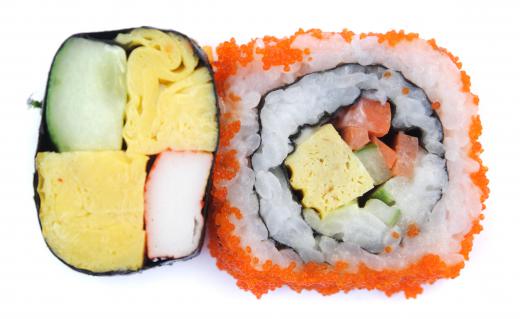 If kelp is included, it is simmered in the rice vinegar briefly before being removed. Then, the rest of the ingredients are added. When kelp is not used, all the ingredients are mixed at once and heated. The mixture is then simmered while being stirred frequently, but not allowed to boil.
As it simmers, the mixture is reduced, allowing any alcohol to evaporate. Therefore, the finished sushi vinegar should have no alcoholic content. Once reduced, the sushi-zu is removed from the heat and allowed to cool. Like all vinegars, sushi vinegar tends to have a better taste if allowed to sit for a few days before use. When the vinegar is ready to use, it is combined with cooked white rice to make sushi rice.
To create sushi rice, the sushi vinegar is sprinkled over the cooked rice while the rice is still hot. Then, it is mixed into the rice by a process of clumping the rice together and spreading it out again several times, which helps prevent the rice from being mashed when mixing. Usually this is done while the rice is being fanned to ensure quick evaporation, which prevents soggy rice. The sushi rice is then used to create sushi rolls or bowls.


Nigiri sushi assortment.

By: BlueOrange Studio

Two futomaki rolls.

By: Ruslan Kudrin

Salt is typically used in sushi vinegar.

By: nalineimages

Some sushi has crab in it.

By: Viktor Lugovskoy

Sushi vinegar is used to make sushi rice.