Summer pudding is a British dessert that is very popular in English cuisine. Its origin is thought to be the late 19th or early 20th century. The most significant feature of summer pudding is that berry and other fruit juices stain the white bread a deep red or pink color. English summer fruit pudding can look attractive for serving when turned out on a footed cake plate with fruits placed around the round dessert.
A whole loaf of good quality white bread is used for the pudding. About 3 pounds (1.361 kg) of mixed, fresh ripe fruits are also needed. The only other common ingredients in a summer pudding are flavorings and sugar. Superfine, rather than regular white, sugar should be a part of this dish. In England, this sweetener is sold as caster sugar. A vanilla bean, or pod, plus sweet spices such as cinnamon, nutmeg, ginger, coriander and cloves flavor the pudding; some cooks also like to add a little grated lemon peel, or zest.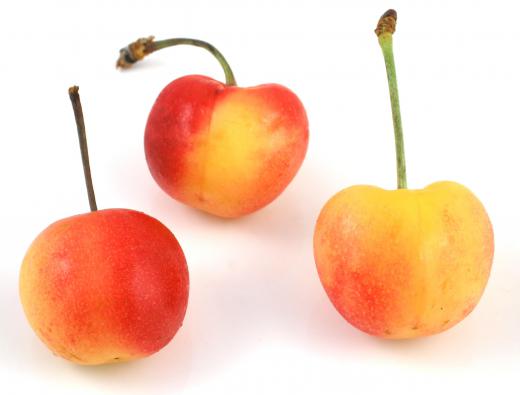 A wide variety of summer fruits are combined to make summer pudding. Red currants, strawberries, raspberries, blueberries and blackberries are common additions. Plums and cherries may also be used. After all of the fruit is washed, and sliced or left whole as needed to be close in size, it's simmered in a covered saucepan.
The vanilla bean is sliced open and added to the simmering fruit to infuse it with flavor. The fruit is cooked only long enough so it still retains its shape without being overly mushy. The spices can then be stirred into the fruit and vanilla mixture after it's removed from the heat.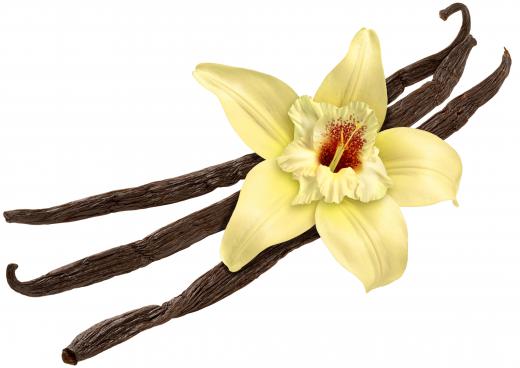 The loaf of white bread should first have the crusts removed and be sliced thickly before being pressed against the side of a large, buttered bowl. The bread slices should be lined in the bowl without leaving any gaps. The fruit mixture is then poured into the bread-lined bowl with about a cup (250 ml) of the juice saved for serving time. The saved fruit juice is used to pour over any parts of the bread in the completed, turned out dessert that end up left white instead of stained.
A plate is fitted into the top of the filled bowl. A heavy object such as a large can or jar of food is placed on top of the plate to press the mixture down. The bowl is placed into the fridge with the plate and weight the day before it's served. Since the summer pudding requires no baking and needs to be prepared ahead, it's ideal to serve as a warm weather dessert. Fresh whipped cream is usually served with the pudding.
AS FEATURED ON:
AS FEATURED ON:

By: Harris Shiffman

Fresh, pitted cherries are a popular ingredient in summer puddings.

By: rimglow

A sliced vanilla bean can be added for additional flavoring in soy ice cream.

By: Joeyjojojo

The juice of the berries used in summer pudding turns the bread a bright red or pink.

By: Sergii Moscaliuk

Summer pudding features white bread.