Steak au poivre is a French dish made with steak and peppercorns, topped with a cream or wine sauce. Traditionally made with boneless cuts of beef of a higher quality, this dish literally translates to "pepper steak," and is often called so. Richly flavored, it is typically cooked in a fatty substance and plated with a vegetable and potato.
Often reserved for tender cuts of beef such as filet mignon, steak au poivre is meant to be quite succulent. To achieve the desired juiciness, a restaurant or at-home chef generally pan fries the steak in a generous amount of oil or butter. Cooks should avoid using non-stick pans when cooking this dish, as such pans hinder the charred, caramelized effect that is meant to occur. The steaks are generally quickly seared on either side before letting rest for several minutes before serving.
Often served rarer than medium rare, this steak dish has two competing flavors that are meant to balance each other out: the peppercorns and the sauce. Black peppercorns are typically used for this dish, as they are easier to find and used in more mainstream recipes than the other varieties of peppercorns. Other colored peppercorns may also be used — such as green, red or white — singularly or mixed with one another.
As a general rule, depending on how peppery each consumer likes his steak, the ratio of peppercorn to meat should be about one teaspoon to one tablespoon of peppercorns per one slab of beef. The coarse, barely-crushed peppercorns should thoroughly be able to coat the steak before it is thrown into the pan. Some chefs prefer to coat the steak with the peppercorns a few hours before cooking, so as to allow the flavor to set in even more.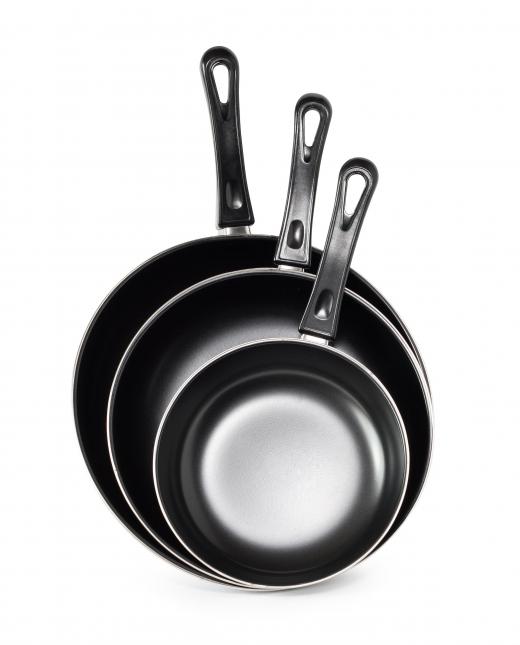 Traditional steak au poivre has been served with a true pan sauce since at least mid-19th century. The original pan sauce recipe, however, is disputed by chefs in the 21st century. Regardless of the concoction, the same pan should be used to create the sauce as was used to cook the steak.
Typical ingredients for the pan sauce include reduced cognac, red wine, or bourbon. Other ingredients include shallots, butter, ground mustard, dark stock, and the deglazed bits from the bottom of the pan. Seasoned chefs believe heavy cream doesn't belong in the traditional steak au poivre recipe, though many restaurants and at-home chefs include the cream. The richness of a cream sauce has the ability to reduce some of the bitter flavor left from the peppercorn crust.
Popular accompaniments for steak au poivre include a steamed or roasted green vegetable, such as asparagus, or a salad. Potatoes are almost always served along this French meal. Baked potatoes, pommes frites — thinly cut French fries — and mashed potatoes are generally picked as one of the side dishes.
AS FEATURED ON:
AS FEATURED ON:

By: Johanna Goodyear

Steak au poivre are often served with french fries.

By: valery121283

Different kinds of peppercorns can be used in making Steak Au Poivre.

By: cosma

It is not recommended to cook steaks with non-stick frying pans.

By: Brent Hofacker

Steak au poivre is typically made with high-quality beef.