Squash risotto is a variation on basic Italian risotto, which is a creamy grain dish prepared by simmering Arborio rice, olive oil, butter, and stock liquid. Regular rice can be substituted for Arborio rice to save time in at-home preparation. Numerous meat or vegetable accompaniments can be added to risotto, including squash, which gives the dish a colorful, rich quality and is suitable for vegetarians.
Preparing squash risotto begins with selecting the type of squash desired for the dish. There are many types of squash available throughout the year at most grocery stores. Butternut squash is a popular addition to risotto, as its nutty taste pairs well with rice. A variety of other squashes are good in risotto, including hubbard or any green squashes. Seasonal gourds such as pumpkin can also be added.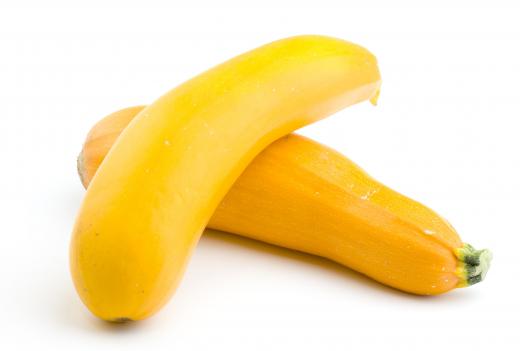 Properly cooking the squash is important in preparing squash risotto, so that the vegetable is not undercooked. It should be soft and tender, not crunchy, in the final dish. Roasting squash in an oven prior to adding it to the risotto is a useful technique. The squash should be halved or chopped before roasting. Most squash risotto recipes call for the the squash and risotto to be prepared separately and then combined just before serving.
Basic squash risotto requires the cook to prepare the squash by roasting it in an oven and, while it is tenderizing, to cook the risotto in a stovetop pan. Preparing risotto typically begins by roasting Arborio rice grains in a pan with butter and olive oil and then adding some dry white wine or cooking wine. Stock liquid, either chicken or vegetable, is then added cup-by-cup as it is absorbed by the rice. Up to 6 cups may be required until the risotto is tender. Total cooking time for Arborio rice is usually about 30 to 40 minutes, but quick risotto recipes using ordinary rice take far less time.
Although squash risotto is suitable for vegetarians as long as vegetable and not chicken stock is used in its preparation, it is not considered a diet food due to the high calorie content of the rice and olive oil. One cup (240 ml) of risotto usually contains around 400 to 500 calories. Risotto is often served as a side dish to a main entr&eacutee, such as meat or fish, but can be used as a stand-alone meal. Squash can be substituted with many other add-ins. Mushroom risotto is a popular variation.
AS FEATURED ON:
AS FEATURED ON:

By: web2000ra

Squash risotto is a variation of basic Italian risotto and contains squash.

By: M.studio

Squash risotto.

By: Andrey Starostin

Serve squash risotto with an herb-roasted chicken.