Spinach gratin is a variation of the French classic au gratin cooking technique, most commonly seen with potato dishes. One tops a gratin with buttered breadcrumbs or shredded cheese. This vegetable dish is a baked casserole in which cooks combine spinach and other vegetables, sauce and selected herbs.
A classic au gratin dish has a cream or milk-based sauce that holds the ingredients together. When preparing a classic au gratin, one only puts breadcrumbs in the topping for the casserole. Variations that have appeared include adding shredded or diced cheese to the cream sauce and in the topping. One also can add manufactured or real bacon bits to the topping.
Spinach is a watery vegetable that one must cook and drain before adding it to a gratin sauce. Undrained spinach will dilute the sauce used in the gratin and make the dish soupy instead of creamy. Excess liquid from watery spinach also makes breadcrumbs in the topping soggy instead of crisp.
Cooks may include spices such as garlic, pepper and savory herbs to enhance the flavor of a spinach gratin. They also add vegetables such as onions and mushrooms. These choices provide textures that contrast with the softer spinach. People who enjoy spicy foods can add sliced or diced peppers, such as chilies or jalapenos. Imaginative spinach gratin recipes may include sweet potatoes, smoked fish, white potatoes, quinoa or squash.
One can choose any cheese for spinach gratin. Fresh Parmesan is one classic au gratin option. Hard cheeses such as cheddar and Colby also tend to work well in gratin toppings. Softer cheeses such as Brie and Camembert complement the flavor of spinach and the cream sauces. Goat cheese, feta, smoked Gouda and bleu cheese also are used as gratin ingredients or toppings.
Breadcrumbs for a spinach gratin can be homemade or prepackaged. Day-old bread, which has less moisture than fresh bread, is a better choice when one makes breadcrumbs for topping a casserole. Panko breadcrumbs, available in some groceries and Asian food retailers, allow one to create a uniform crust on the spinach gratin, with finely crushed, crunchy crumbs. Crackers, crushed and ground in a food processor, also are viable substitutes for seasoned breadcrumbs.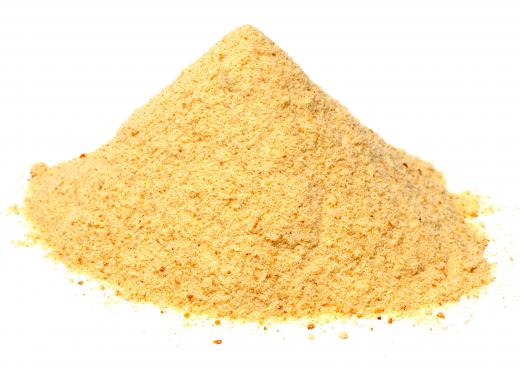 After assembling the ingredients, one bakes or broils the spinach in a gratin dish, or ovenproof casserole. Materials used for gratin dishes include cast iron, tempered glass, earthenware and pottery. Classic styles are oval or oblong and shallow. The depth of the dish typically remains constant, even when the total volume of the dish increases.
AS FEATURED ON:
AS FEATURED ON:

By: Alessio Cola

Spinach.

By: Bert Folsom

Fresh Parmesan is a classic spinach au gratin option.

By: steheap

Smoked gouda is an excellent cheese choice as an ingredient in spinach gratin.

By: Vidady

Breadcrumbs are used as a topping for spinach gratin.

By: Comugnero Silvana

Fish and spinach gratin topped with a cheese sauce.