What Is Snickerdoodle Cake?
Traditionally, snickerdoodles are cinnamon and sugar cookies. A snickerdoodle cake translates the taste of the cookie into cake form. These cakes are often frosted with brown sugar buttercream icing or dusted with cinnamon and sugar. They can be made into rectangular sheet cakes or round layer cakes with two or four layers.
The simplest versions of snickerdoodle cake use white cake mix as the main ingredient. Whole milk, eggs, and butter are added, as well as vanilla and cinnamon. From scratch versions also use these ingredients, but instead of cake mix they include white sugar, all-purpose and cake flour, and baking powder. Occasionally, a solid shortening may be substituted for the butter, and some versions omit the cake flour, only using all-purpose flour.
When making a snickerdoodle cake using cake mix, all the ingredients are simply mixed together at once and then poured into one large rectangular pan or, more often, two round pans. The cake is then baked and allowed to cool completely before being frosted. If it is dusted with cinnamon and sugar rather than being frosted, the dusting usually occurs before it is cooked.
Creating snickerdoodle cake from scratch begins with creaming together the butter and sugar. Creaming is a technique in which sugar is slowly combined with room temperature butter in order to create a fluffy, air-filled mixture. This technique allows for light, fluffy finished cakes. After creaming, the eggs are beaten into the mixture. Then, the baking soda, salt, cinnamon, and flour are whisked or sifted together and added to the creamed butter in batches, alternating with the milk.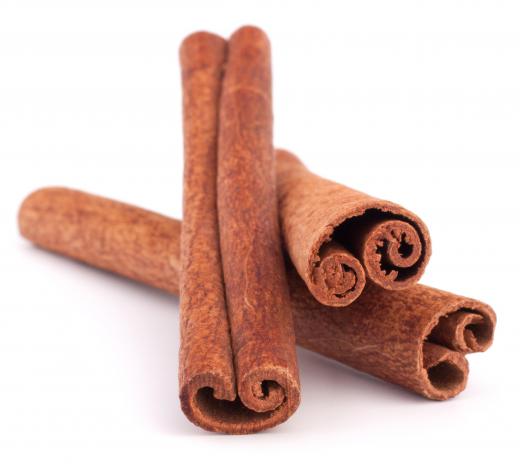 Afterward, the batter can be split into two round cake pans and baked. Once baked and cooled, the cake can be assembled and iced. If four layers are used, each finished cake is cut into two layers. Then each layer is frosted. The completed cake can be garnished with cinnamon sticks.
A brown sugar and cinnamon buttercream frosting is normally used to ice a snickerdoodle cake. In addition to brown sugar and cinnamon, this frosting contains butter, powdered sugar, vanilla, and half and half or milk. The butter, sugar, and cinnamon are first mixed, then the rest of the ingredients are added in batches. If the finished frosting is too thick, more milk or half and half is added; if it is too thin, more powdered sugar is included. The icing will have a slightly gritty texture, to simulate the cinnamon and sugar texture of snickerdoodle cookies.
AS FEATURED ON:
AS FEATURED ON:

By: Vidady

Baking soda, one of the ingredients in snickerdoodle cake.

By: atm2003

Cake flour and eggs, two of the ingredients in snickerdoodle cake.

By: Natika

Cinnamon is a key spice in snickerdoodle cake.

By: Elenathewise

Milk is a key ingredient in snickerdoodle cake.

By: Yevgen Kotyukh

Snickerdoodle cakes use flour, sugar and butter that are creamed together.

By: bit24

White sugar is typically added to the other dry ingredients in snickerdoodle cake recipes.