What is Slip and Fall Liability?
Slip and fall liability is responsibility for an accident in which a person slips and falls. For example, if a wet floor is left unattended in a commercial location and a person falls because of it, the business owner may be liable for any injuries that person sustained in the slip and fall accident as well as any loss of income he suffers while recovering. Likewise, a homeowner may be liable in the event that a delivery person or even a passing neighbor falls on icy pavement or stairs outside his home. Many people, fortunately, have liability insurance that pays claims when a person has a slip and fall accident on their property.
Slip and fall liability laws may vary from jurisdiction to jurisdiction. In many places, however, a property owner is liable for injuries caused to other parties as a result of the unsafe condition of his property, lack of hazard warning signs, or negligence. This essentially means a property owner can be held responsible for and have to pay compensation to a person who is injured as a result of his actions or lack of action in caring for his property. In many jurisdictions, a property owner may face a slip and fall liability lawsuit in which he can be ordered to pay the injured party's medical bills, damages for time he couldn't work, and extra compensation for the pain and suffering the injured party endured.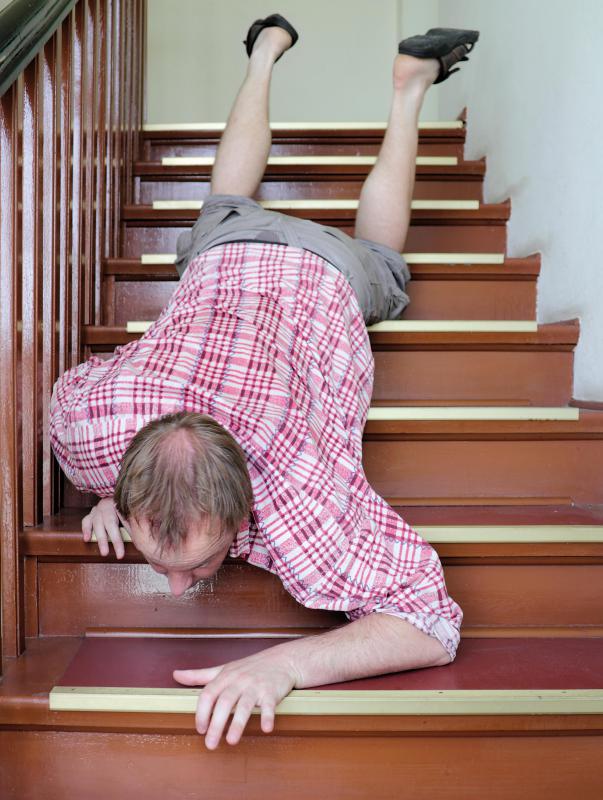 The reason for which a party is on the property owner's premises may play a role in whether or not the property owner will be responsible for his injuries. For example, if a person is visiting a store, home, or other property within the bounds of the law, he will usually have a case against its owner in a slip and fall accident. If, on the other hand, a trespasser is injured while on a property illegally, he will probably not have a slip and fall liability case.
There are many types of situations that count as slip and fall accidents. Among them are wet-floor accidents and falls caused by slippery conditions brought on by rain, snow, or ice. Floor-balance issues, bunched or rippled carpet, and obstructions located in walkways can cause this issue as well. Slippery floor materials, such as some types of tiles, can also cause slip and fall accidents. Even such things as uneven or poorly maintained sidewalks and potholes can cause slip and fall accidents as well.