What is Single Origin Chocolate?
It's not unusual to hear people talking about wine regions, tastes of wine from particular wineries, and wine made from different types of grapes. Even coffee is now often assessed by region and companies that offer coffee exclusively from Hawaii in the form of Kona coffee charge a high price for doing so. This interest in differing tastes depending upon region has migrated to chocolate, and introduced the concept of single origin chocolate.
Single origin chocolate is chocolate made from beans from one region, sometimes even one farm. Chocolate connoisseurs argue that chocolate has varied tastes and such tastes depend upon where it is grown. When chocolate is made from beans from many different areas, taste distinction is more difficult to discern. With the advent of single origin chocolate comes the idea of chocolate blends that promote the best features of chocolate. Blending varieties of chocolate from one location to produce superior chocolate is actually a very old concept, made new by a generation of chocolate experts and tasters.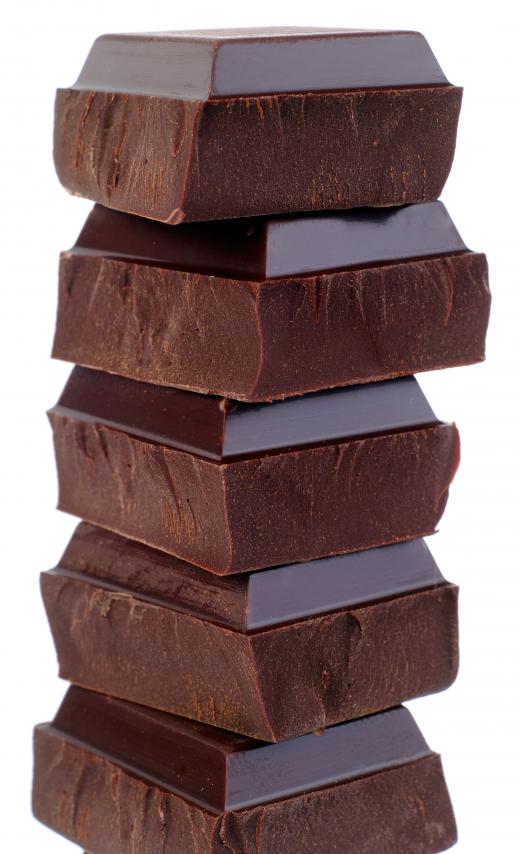 Proponents and fans of single origin chocolate contend that region makes a different in taste, and they entice chocolate lovers to try simple tastings to detect these differences too. Some companies even offer tasting kits for four people, in order to detect the multi-layered tastes of chocolate from different regions. Words like "finish," "snap" and "sheen" are used to describe the differences between chocolates, and tasters may discern berry, vanilla, or coffee "notes" in chocolate from one particular region. To many this sounds a great deal like wine tasting terms, and they would not be wrong to assume this. As popularity in wine tasting has grown into a mass and profitable business, chocolatiers realized the market potential of chocolate tasting, and have capitalized upon it.
Some companies have used single origin chocolate for years, and the trend of chocolate tasting has been a popular one in Europe. America is now catching up with numerous companies offering slim bars of chocolate from a single origin. The idea is often paired with the concept of organic growing conditions, and with good labor conditions for workers.
This is often where chocolate meets its downfall. Transfair USA, which certifies standards for world labor practices and wages contend that only about 1% of chocolate in the United States is produced in a manner incorporating fair labor practices. In some areas, like the Ivory Coast, production of chocolate translates to child slave labor practices, which are very disturbing. Organic chocolate may not be the highest quality because chocolate plants are susceptible to numerous pests. Yet companies like Whole Foods now sell both organic and Transfair certified single origin chocolate.
One benefit to this chocolate is that people can know exactly where what they eat is being produced. This may lead to consumer controls on areas known for poor labor practices. Single origin chocolate is not likely to put large-scale chocolate manufacturers, who need not describe to consumers where they get their chocolate supplies, out of business.
In fact, companies like Hershey's are now profiting instead of losing business to single origin chocolate companies. Hershey's recently purchased Scharffenberger, Joseph Schmidt and Dagoba Organic Chocolates. Hershey's will still continue to produce numerous other chocolate bars, like the famous Hershey bar, but will also profit from the single origin trend through their other brands.
Some chocolatiers feel the recent trends toward single origin chocolate are merely smart marketing but don't necessarily represent better quality chocolate. Many prefer to select their chocolate by taste rater than region. Ultimately, some chocolate experts contend, the trend aims toward high-end consumers with extra money to spend, but good chocolate is more about personal satisfaction than region where it is produced.
AS FEATURED ON:
AS FEATURED ON:

Chocolate.

Single origin chocolate truffles.

By: poco_bw

In some countries, child slave labor is used to harvest and process chocolate.

By: angelo.gi

Single origin coffee may be sold at a higher price than blends may from beans harvested in numerous countries.