What Is Shrimp Linguini Alfredo?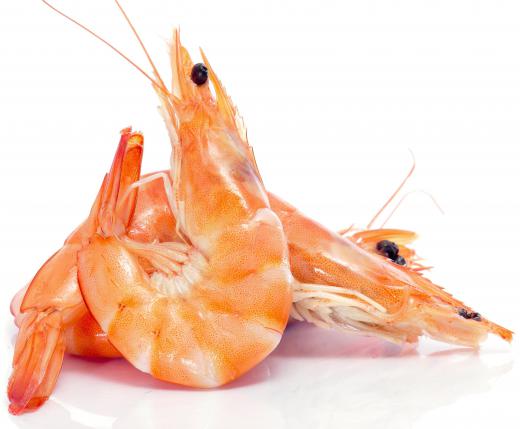 Shrimp linguini alfredo is a dish composed of three main components — a pasta, a white sauce, and the seafood. It contains dairy and usually wheat unless a gluten-free pasta is used. Preparation is generally described as easy and the preparation time is usually considered short. This dish can be prepared by way of a one-pot method.
To best understand shrimp linguini alfredo, it is a good idea to analyze the major components. Begin with linguini, which is a type of Italian pasta. It is long, flat, and fairly thin, so it cooks more quickly than some of the other pastas. Its origin is believed to be Linguria, which is a coastal city. Linguini has a reputation for working well with seafood.
Another hallmark component of shrimp linguini alfredo is its sauce. Considered by many North American culinary professionals to be a classic, alfredo is a creamy white sauce that is considered a good match for both seafood and pasta. Although there are numerous recipes, ingredients such as a butter, cream, and Parmesan cheese will likely be included in most. Other ingredients that may be called for include scallions, garlic, and salt.
The other major component of shrimp linguini alfredo is the portion that comes from the sea. Shrimp are a fairly delicate seafood that are served in a variety of ways. Most recipes for this dish will likely call for them to be sauteed. There are, however, some that call for the shrimp to be broiled or, when a taste twist is desired, they may be grilled. Some people may never see shrimp in their natural form and may fail to realize that these are shellfish.
Shrimp linguini alfredo is considered a stove-top dish and can be prepared fairly quickly. There are two common methods for preparation. The one-pot method essentially involves creating the sauce in a pot and then cooking the pasta and shrimp in the sauce. This method is usually best if the shrimp are pre-cooked.
The other method of making shrimp linguini alfredo generally requires a saute pan and a pot. The pasta is boiled alone in the pot and then drained. The shrimp is sauteed and placed aside. Then the sauce is created in the saute pan and the shrimp and pasta are mixed in later.
Shrimp linguini alfredo, despite the presence of an Italian pasta, is considered to be an American creation. Individuals who look for it on Italian menus are often disappointed by its absence. Also, this is a dish that is generally not suitable for those with wheat, dairy, or shellfish allergies.


By: nito

Shrimp.

By: Bert Folsom

Parmesan cheese is a key ingredient in Alfredo sauce.

By: Schlierner

Garlic is commonly used in shrimp linguini alfredo.