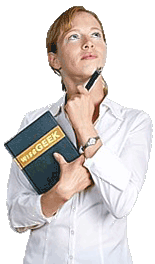 Scientology, administered by the Church of Scientology (CSI), is a non secular religion founded by Ron L. Hubbard (1911-1986). The word itself means the study of truth, knowledge, or skill. Scientology's roots began in Hubbard's best-selling book, Dianetics, first published in 1950. Dianetics asserts that most physical and emotional ailments can be attributed to stored traumatic memories. With the help of an "auditor" a person can be "cleared" of these memories and free to enjoy broadened states of consciousness, increased intelligence and overall well-being. Scientology expanded the principles described in Dianetics, extending them to include spiritual awareness. Hubbard's philosophy of Scientology began in 1952.
Scientology purportedly reaches beyond the mental and emotional planes to help an individual develop his or her entire person or being across lifetimes. By "rehabilitating" the soul, the person can achieve greater happiness and success, beyond that which the individual may believe he or she can achieve. Many celebrities are commonly associated with the religion, including Tom Cruise, Kirstie Alley, and John Travolta.
A pulp science fiction writer by trade, Hubbard, according to his own published statements, tired of working for "a penny a word." In a 1980 Reader's Digest article, Hubbard was quoted as saying, "If a man really wants to make a million dollars, the best way would be to start his own religion."
Throughout Dianetics and Scientology, Hubbard takes concepts from a variety of fields including medicine and religions such as Buddhism and Hinduism, and infuses them with his own philosophies. Some medical doctors and scientists discount Scientology as junk science. Others deem certain aspects of it as potentially harmful.
Scientology has its share of controversy associated with it. Members have been encouraged to break ties with family or friends who are critical of the organization. In United States vs. Mary Sue Hubbard (D.D.C. 1979), Hubbard's wife and several other Scientologists were found to have infiltrated the United States government for purposes of wiretapping and theft. Various deaths, deemed by some to be suspicious have been linked to the Church of Scientology, including the suicide death of one of Hubbard's own children, George Quentin Hubbard (1954-1976) as well as the deaths of Lisa McPherson, Noah Lottick, and Susan Meister. While some find the church's philosophies of self-help and enlightenment to sharply contrast with these controversies, others find Scientology to have been a great benefit to their lives.
Woman holding a book