What is Rotisserie Chicken?
Rotisserie chicken is chicken that has been spit-roasted whole on a rotisserie, a spit designed to rotate to ensure that the meat is evenly cooked. There are a wide range of ways to prepare chicken this way, and it is a common and popular food in many regions of the world. Many grocery stores with a prepared foods section offer chicken that has been rotisserie cooked, and it also appears as street food in some countries. It can also be readily prepared at home on a grill, in a specially designed rotisserie oven, or in a modified regular cooking oven.
When meat is spit-roasted, it cooks slowly from the outside. Meat that has been well-prepared will develop a crispy, caramelized outside, and a tender, moist inside. Rotisserie chicken is classically prepared with the skin on, which usually becomes very crisp and crackly. Much of the fat also renders out during the cooking process, browning the meat and skin along the way. When prepared on a grill, the meat can develop a complex, smoky flavor that requires no additional seasoning.
Cooks who prepare chicken this way in an oven usually rub it with a spice mix or briefly marinate it to add some flavor. Brining and other moist marinades can add flavor and ensure that the meat does not dry out as it cooks, while dry spice rubs tend to penetrate only the upper layers of the skin and meat, although sometimes this is enough. The chicken is typically not stuffed, allowing plenty of heat and air to circulate through the middle of the bird as well as on the outside, ensuring that it will be thoroughly cooked.
Some people like to use rotisserie chicken to create a reasonably healthy meal very quickly. Whole ones, as well as parts, are often available in stores, along with side dishes of vegetables and grains, for people who want to pick up a whole meal at the market. They can also be prepared at home relatively easily, if a cook has the proper equipment. Home preparation ensures the freshest taste possible, and allows cooks to control the ingredients for the healthiest and most flavorful outcome.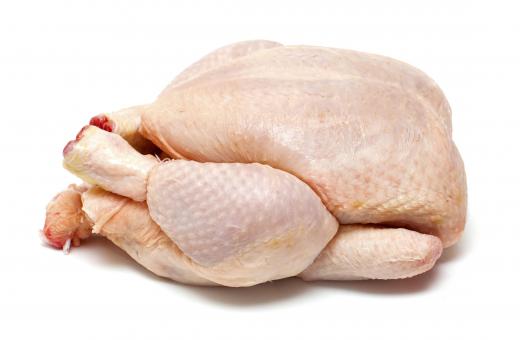 Cooks who prepare rotisserie chicken at home, can choose from hand-cranked rotisseries or electric ones. Kitchen supply stores sometimes carry rotisserie ovens in both gas and electric models, along with attachments for grills and conventional ovens. The important thing for chefs to remember when making one at home is that the bird should be tightly trussed to ensure that the legs and wings do not burn during the cooking process.
AS FEATURED ON:
AS FEATURED ON:

By: Louella Folsom

Chicken spit-roasted in a rotisserie oven.

By: Viktor

A rotisserie chicken.

By: Diana Taliun

A chicken before being rotisseried.

By: Monkey Business

Dry rubs are typically used to flavor rotisserie chicken and other rotisserie meats before cooking.