What is Roll on Deodorant?
Roll on deodorant is a toiletry which is applied to the underarms with a rolling applicator to reduce or eliminate body odor. It generally contains an anti-bacterial agent, a fragrance, or both. Some types of roll on deodorant also contain an antiperspirant, which reduces the amount of sweat released from the treated area. There have been claims that the antiperspirant ingredients contained in some deodorants can increase the risk of breast cancer in the user, although medical research has not yet verified or disproven this assertion.
Body odor occurs when sweat released by the glands to cool the body mingles with microscopic bacteria on the skin's surface. These bacteria feed on the sweat and subsequently release waste, which produces a foul smell. Bacteria survive best in warm, moist environments. Consequently, the underarm area is an ideal bacterial habitat and, as a result, a prime location for body odor.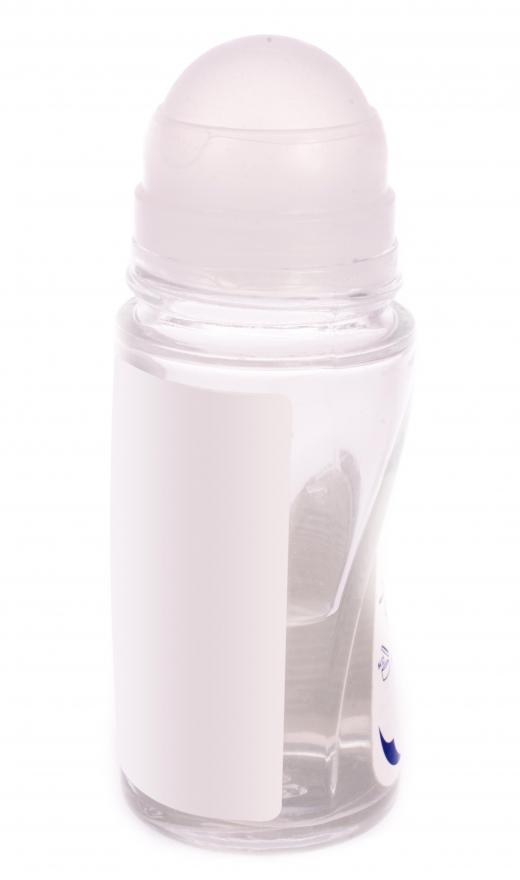 A roll on deodorant is intended to prevent or reduce underarm odor by making the area less hospitable to bacteria. Many formulations also leave a masking scent on the skin. This type of deodorant is generally a liquid substance and is sold in a small plastic bottle topped by a rolling applicator which dispenses a thin layer of the liquid as it is moved over the skin.
One of the most common ingredients found in roll on deodorant is alcohol, which functions to kill many of the bacteria present on the treated area. Some formulations contain a stronger anti-bacterial agent such as triclosan. These stronger deodorants are useful for those who naturally release large amounts of perspiration.
Many roll on deodorants also leave a light fragrance on the skin, which serves to mask body odor. In some cases, this fragrance is derived from artificial perfumes. Other products contain botanical oils, which impart a natural scent. These naturally scented products are popular with those who wish to avoid cosmetics and toiletries high in artificial substances.
Some varieties of roll on deodorant contain an antiperspirant agent which blocks the release of sweat by temporarily plugging the pores. This effect is typically achieved through the use of aluminum compounds. Antiperspirants have been the subject of intense scrutiny on the part of the US media as well as the public due to claims that the prolonged use of aluminum-containing products can lead to a heightened breast cancer risk. While these rumors have been persistent, medical researchers have not definitively proven or disproven the alleged link between antiperspirant and cancer.
AS FEATURED ON:
AS FEATURED ON:

By: Dmitry Vereshchagin

Roll-on deodorant.

By: Jason Stitt

Body odor occurs when sweat is released as a means of cooling the body.

By: vladimirfloyd

Roll on deodorant is intended to prevent or reduce underarm odor by making the area less hospitable to bacteria.