Rice vermicelli is not a type of rice but actually is a type of Asian noodle that is made from rice, or rice flour, and is often called rice sticks. Sold in a dry form, this popular noodle cooks very quickly. The noodles are thin and translucent and are not to be confused with another type of noodle called cellophane noodles, which are made from mung bean starch. Rice vermicelli comes in different forms — twisted, shredded, paper and stirred — and is commonly used in most types of Asian cuisine, including Chinese, Indonesian, Filipino, Thai and Vietnamese.
Called mi fen, mee fun or mei fun in a Chinese restaurant or grocery store, rice vermicelli is also called mai fun in Japanese and sen mee in Thai cuisine. The thin rice noodle is usually available packaged in a dry form and generally can be found in supermarkets in many countries around the world. Markets that specialize in Asian food might sell these noodles in a fresh form in addition to the dry packaging. In addition to its use in Asian cuisine, these noodles can also substitute for the thin egg noodles in non-Asian dishes, such as chicken noodle soup.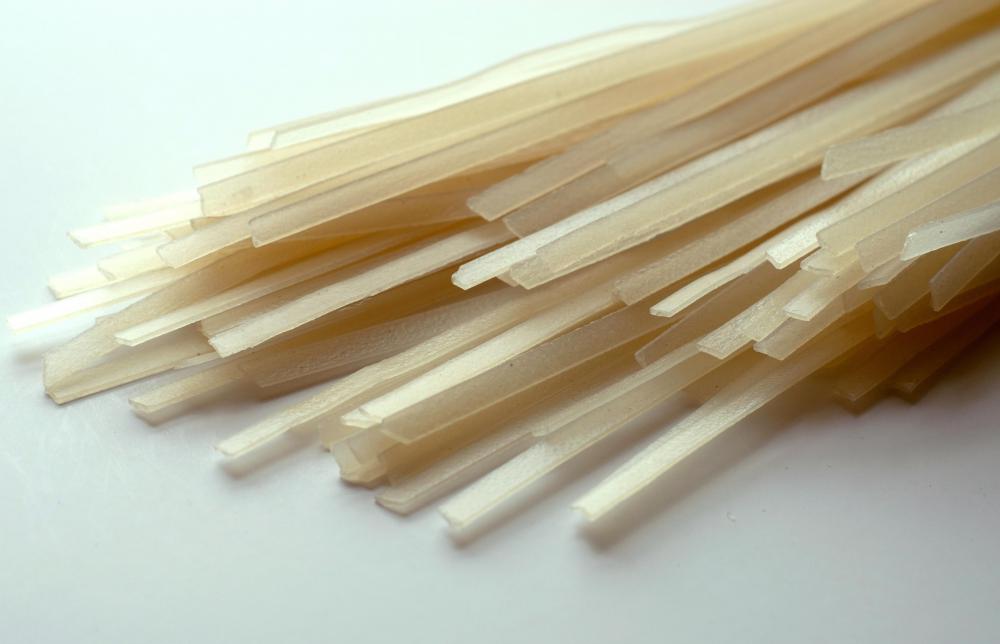 Rice sticks, as they are often called, are generally added to soups, salads, stir-fried entrées and soups. Cooks soak the dry rice noodles in warm water to soften them for several minutes before adding them to the dish to finish the cooking process. Dry rice vermicelli can be deep fried without soaking it in water, for a crunchy addition to Chinese chicken salad or to garnish chicken chow mein and other dishes.
Popular in most Asian countries, rice sticks combine well with a variety of ingredients associated with the types of cuisine native to each country and can be substituted for rice in most rice dishes. Vietnamese cooks often pair rice vermicelli with fried pork meat, snails, fried eggs, crab soup and chicken. A Chinese recipe might combine these noodles with scallions, soy sauce, bean sprouts and chicken. Mee siam is a spicy Malaysian dish of shrimp, chicken, shallots, red chilies, garlic and scallions. The word for rice vermicelli in India is sevai, and it is often served at any meal, including breakfast.