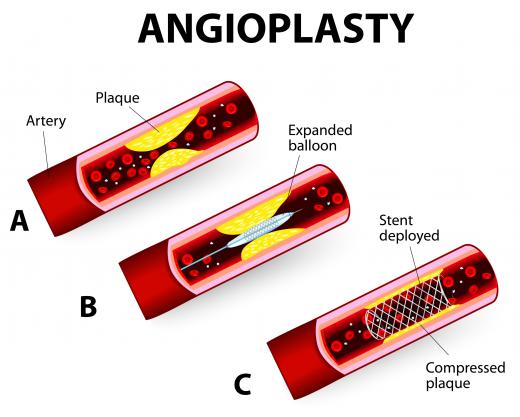 Restenosis is a potential complication of angioplasty, a procedure which removes an obstruction or alters a narrow artery. Commonly, a balloon is inserted into a blocked artery during an angioplasty and inflated in order to allow blood to flow normally to all portions of the heart. Another option with an angioplasty is to install a stent, a spring-like device meant to help keep the artery open. Some stents are treated with special medicines in order to reduce the amount of tissue that clings to the metal of the stent. These medicine-treated stents are still awaiting FDA approval, so they are not regularly used in the procedure.
With either method, the final result is an artificial device placed in the patient's heart in order to keep the artery from closing. Within six months of the angioplasty, the artery can become blocked again as scar tissue builds around the artificial device. This complication is referred to as restenosis. If a balloon is used, there is a 40% change of restenosis, but the risk reduces to 23% when a stent is used.
Typically, a patient coping with restenosis feels chest pain after engaging in physical activity. If the cardiologist determines the problem to be restenosis, the patient has three choices for treatment. The first option is for the cardiologist to perform a second angioplasty. In this case, the effected stent or balloon is removed and replaced with a new device. Unfortunately, the risk of restenosis is higher with a second angioplasty than with the first.
The second option for a patient suffering from restenosis is to undergo bypass surgery. During this procedure, the effected portion of the artery is replaced with a section of artery from the patient's thigh. This surgery is riskier than a second angioplasty, but usually more effective if the patient adheres to the strict diet and exercise regimen prescribed by his or her doctor.
The final option is a newer procedure called brachytherapy. Brachytherapy uses a low dose of radiation to inhibit scar tissue from forming inside the artery. Brachytherapy is lower-risk than bypass surgery, but few doctors are qualified to perform the procedure. Therefore, it is generally offered only in large cities.
Patients who have undergone an angioplasty can help prevent restenosis from occurring. Maintaining a low-fat diet, limiting alcohol consumption, quitting smoking, and exercising regularly can all aid in prevention. Visiting the cardiologist on a regular basis is also critical, as is taking all prescribed medications.


By: designua

The risk of restenosis is higher with a second angioplasty than with the first.

By: Alexandr Mitiuc

A stent may be employed to keep a blocked artery open.

By: igor

Quitting smoking may help prevent restenosis from occurring.

By: ambrozinio

Limiting alcohol consumption can help prevent restenosis for those who have undergone an angioplasty.

By: Arkady Chubykin

A patient may spend several days in the intensive care unit following bypass surgery to address restenosis.