Red bean cake is an Asian cake that contains a red bean paste filling made from azuki beans; the red bean paste filling is also used to make red bean soup and other legume dishes. These cakes may be included in everyday meals, or, as in the case of some mooncake varieties, they may be prepared only on certain festive occasions. Different variations of these cakes are available in many Vietnamese, Filipino, Indonesian, Thai, Japanese and Chinese dessert food shops.
The word azuki is Japanese; the beans are known as hongdou and chidou in China, pat in Korea and dau do in Vietnam. Azuki bean and other legume dishes are often healthy, as beans are rich in nutrients and fiber, and help with keeping the colon clean. The azuki beans are also low on fat and do not have any cholesterol.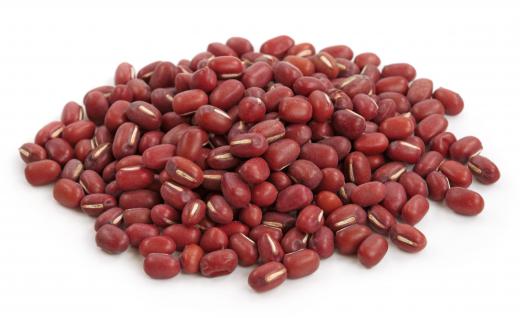 The filling for the red bean cake is made by boiling and mashing the azuki beans. The beans can be boiled with sugar or honey, or the sugar or honey can be added after the beans have been boiled. The mashed bean paste may contain bits of the beans, or these bits can be removed by straining the paste through a sieve. The red bean paste can have a smooth or thick consistency; to get a very thick consistency, the paste is put in a cheesecloth and all the moisture in the paste is squeezed out.
The thicker red bean paste is the version that is generally used as a filling for the red bean cake; a little water or gelatin may be added to dilute the paste if required. It can also be used as a red bean cake filling, and it can also be used to make red bean soup. In some cases, the red bean paste may be frozen before it is used as a filling. Other ingredients to make the red bean cake include baking soda, coconut powder, custard powder, eggs, sugar, salt, vegetable oil, vanilla extract, butter and milk.
The outer crust of the red bean cake can be made using rice flour, wheat flour, or a mixed flour. The crust may be crisp, flaky or steamed, and the top of the crust is often stamped with a design. It is usual to serve the cakes in squares, or in half moon shapes.
AS FEATURED ON:
AS FEATURED ON:

By: Elena Schweitzer

Azuki beans, which are used to make red bean cake.

By: m.u.ozmen

Wheat flour may be used to make a healthier red bean cake.