Raw hair dye is a semi-permanent hair dye that comes in a variety of colors that typically are unnatural. These colors can range from blues to greens to pink, and generally wash out within six to eight weeks. This dye is usually sold in Hot Topic® stores but sometimes can be purchased online, although it does not have its own manufacturer website for purchase.
The brand name RAW, as it is written on the label, is generally highly regarded by people who dye their hair at home and experiment with different colors. RAW's motto, "Change your hair, change your mood," is indicative of its users' tendency to change their hair color frequently. Since the dye is semi-permanent, many people believe it to be safe to use on a monthly basis, but this can be misleading.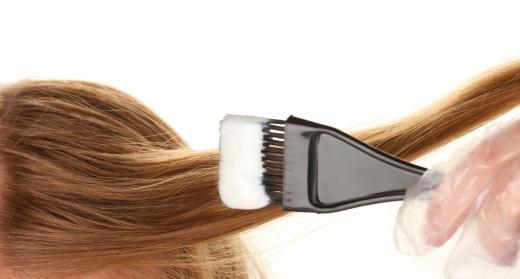 Hair that is not already light blond will typically need to be lightened to get the desired results using raw hair dye. This process requires bleaching the hair, sometimes more than once, to reach the desired shade. Bleach also opens the hair follicle to absorb the dye more readily, thereby improving the dye results. While this helps a person get the best color results, it is quite damaging to the hair. Raw hair dye also has some chemicals that usually damage the hair further, and sometimes changing from one color to another will require the hair to be bleached again.
People who are coloring their hair at home for the first time may find the process messy as well. A few supplies generally recommended include a bowl for the dye, a tint brush, old towels, and old clothing. The dye will stain many types of surfaces and clothing, so it is best to wear old clothes and cover any areas that the dye might fall or drip onto. It will usually stain skin for a few days as well, and wearing gloves and applying Vaseline® all around the hairline can prevent this.
As with all hair color products, an allergy test and color test should be performed before applying raw hair dye throughout the hair. These tests can help determine the time needed to get the desired shade and eliminate the possibility of a severe allergic reaction on the scalp. Each bottle comes with instructions printed on the label and these typically should be followed to avoid complications.
AS FEATURED ON:
AS FEATURED ON:

By: Africa Studio

Use a tint brush to apply hair dye.

By: steinerpicture

When dying or bleaching hair, it's recommended to wear gloves to protect hands against chemicals and staining.

By: Valua Vitaly

To use Raw hair dye, hair that is not already blonde will need to be lightened.

By: bedya

A root touch-up brush, which looks similar to a mascara wand, can be used to apply hair dye specifically to the roots.