What Is Ranthambore National Park?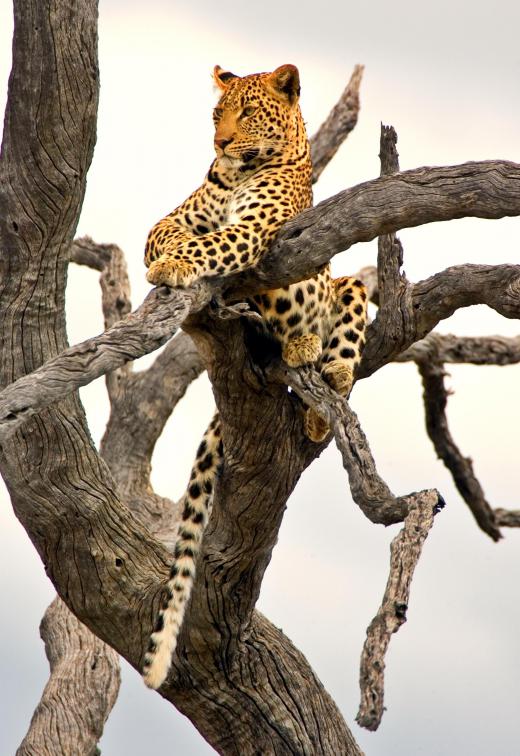 Ranthambore National Park in Northern India is renowned for being the country's largest Bengal tiger reserve, officially established in the early 1970s at the start of a national effort to restore the species. Located in Rajasthan, the reserve is historically significant as well for being the former hunting grounds of the famous Maharajas of nearby Jaipur. In 2011, it is a popular destination for photographers and other tourists looking to experience a slice of the wild.
The principle feature of Ranthambore National Park is its affiliation with India's Project Tiger initiative that started in 1973 to save one of the country's national symbols. Since then, the area's tiger population reportedly has remained fairly stable at three dozen or more. Though the park is controlled by a private company, it receives federal funding to support India's tiger habitat restoration efforts.
A mix of mountains and jungle, Ranthambore National Park and its contiguous reserves comprise about 829 square miles (about 1,334 square km) of natural tiger habitat. Mountains jut through the park, which lies at the nexus of the Aravalli and Vindhya mountain ranges. Several flat-topped mountains called Indala, Chiroli and Doodh-Baht are bare yet surrounded by a thick jungle habitat coursing with tigers and other wildlife.
Tigers are only the top of the fauna food chain to be found in Ranthambore National Park. Panthers and leopards are fairly equal to the tiger in numbers. Their principle food sources are spotted deer, sloth bears, wild boars, jackals, hyenas, gazelles known as chinkaras, and blue bulls going by the name of nilgai. The populations of these food sources as well as the many flora species are closely monitored and nurtured to keep the tigers' ecosystem thriving.
To further protect the tiger population in Ranthambore National Park, the central government in New Dehli spends millions to relocate village populations residing in or near the reserve. This lessening of human interaction not only further protects the tiger from pelt poaching, but also from the ecosystemic changes that occur when human populations cut down trees for timber. Much of the money has gone toward keeping human populations away with the promise of fuel and fresh water. Other efforts have involved installing cameras to catch poachers.
Ranthambore is not the only tiger-rich region of the country, which totals about 1,500 wild tigers in 2011. Special tiger trail tourist packages whisk tourists through several areas on the outskirts of major cities like Agra, New Dehli and Jaipur. Though Ranthambore is the principle habitat, tigers also can be found in national parks in Bandhavgarh, Bharatpur and Kanha.


By: Yulia Romanova

Leopards, a "big cat" species that sleeps and eats in trees, are among the animals that live in the Ranthambore National Park.

By: StarJumper

Bengal tigers are the stars of Ranthambore National Park.

By: Tupungato

Ranthambore National Park is the largest Bengal tiger reserve in India.