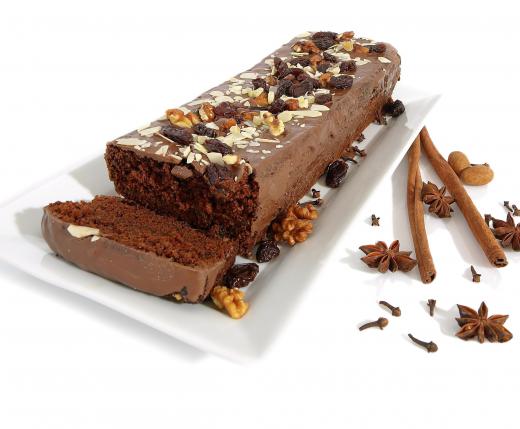 Raisin bread is a baked dough made with raisins, sugar, wheat and flour. It is a sweet bread often served as a dessert. Raisin bread is sometimes swirled with cinnamon in a variation called cinnamon raisin bread. The bread is often baked on holidays like Christmas or Thanksgiving, and is considered a family favorite by many.
Raisin bread is, like other breads, prepared by combining water and flour into a dough and baking it. Salt and yeast are also common, as in other breads. What makes a raisin bread, though, is the raisins. And the addition of other delights, like spices such as cinnamon, give raisin bread different flavors and character.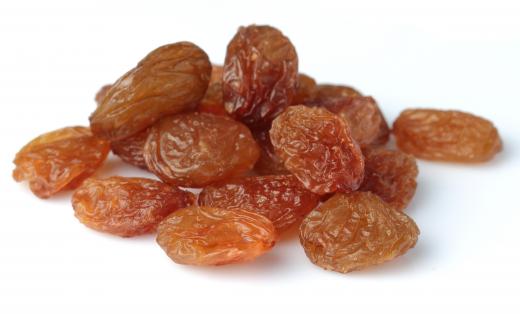 Raisins can be baked into any of a number of breads, from white to wheat or whole grain. Many raisin breads, though, are baked into a sweet loaf and topped with sugar, pecans, or a variety of toppings. One popular variety is made with swirls of cinnamon baked into the bread around the raisins. Like many french toast brands swirled with cinnamon, the cinnamon raisin bread has a pleasing spiral appearance when sliced. To compliment the brownish curves in the bread, a light or strong cinnamon taste enhances the sweetness of the bread and raisins.
Raisin breads, whether sweet or not, are a popular breakfast meal. The bread offers a filling sampling of carbohydrates, and fruit from the raisins. It is often sweet enough not to need jams or preservatives that may add sugar or calories. In the same vein, raisin breads make a popular family holiday treat because they are easy to make. Many families can claim individual recipes, and the loaf is easily cooked, sliced and prepared for meals. The cinnamon raisin bread is convenient for breakfast, lunch or dinner on these occasions.
Raisin bread has spawned several other desserts, from raisin bread pudding to raisin bread cake. It can be served toasted, or for the adventurous, as a part of a sandwich. Many restaurants offer raisin bread as a healthy choice for a sweet breakfast or a heavily topped and delicious choice for a lighter dessert.


By: Nightman1965

Raisin molasses bread.

By: Dionisvera

Golden raisins.

By: baibaz

Raisin bread is often flavored with cinnamon.

By: eAlisa

Raisin breads are often topped with pecans.