Quiche Lorraine is the original form of quiche, from the French region of Lorraine. It is an open savory pie, filled with a cream and egg custard, and usually containing pork in some sort or other.
Quiche Lorraine was born in the German region of Lothringen during the medieval era. The Germans called their open pie a Kuchen, which meant simply "cake." Kuchen then became kúche, and eventually became kische. When the French conquered Lothringen, they renamed it Lorraine, and the spelling of kische shifted to a more standard French spelling of quiche.
Quiche actually goes back much further than the original quiche Lorraine, however. Since ancient times people have been making open savory pies: from the Roman patinea to the meat tarts eaten in Medieval Europe. Strictly speaking, quiche Lorraine does not contain cheese, although many modern quiches do add cheese. Julia Child, trying to correct this misapprehension, told Americans "The classic quiche Lorraine contains heavy cream, eggs, and bacon. No cheese." Most often Gruyére is added to quiche Lorraine, making it quiche au gruyére. Some people also add onions to the quiche Lorraine, making it quiche Alsacienne, as this is the style found in the French region of Alsace.
Traditionally, quiche Lorraine has a bottom crust made from bread dough, but most modern recipes instead use a puff pastry crust. This gives the entire quiche a lighter, fluffier feel, generally preferable to Americans. Originally, quiche Lorraine contained no meat. In fact, it was an important food in strongly Catholic France, as it could be eaten on the meatless days of the liturgical calendar. Soon, however, the variant known as quiche au lard, which contained pork, became the dominant type. Quiche Lorraine is now generally understood to contain minced bacon or bits of pork.
A general recipe for a fairly traditional quiche Lorrain meant for two would be:
Dough: 6T butter, 1/3C water, 3/4C flour, pinch of salt. Filling: 3/4C minced bacon, 3T butter, 2C cream, 5 eggs, pinch of salt.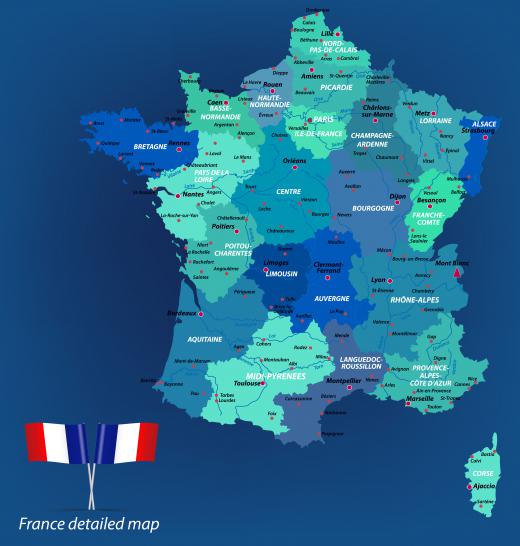 The dough is then kneaded twice, and left to rest for an hour. The bacon is blanched and drained. The dough is rolled into a pancake, as if being used in a tart. The dough is then moved to a buttered tart pan, firmly pressed to the bottom and the sides, up and over the rim. The eggs are beaten and slightly salted, and then cream is added slowly while beating. The butter is sliced and placed on the flat dough, the bacon is placed on top of the butter, pressed firmly so it sticks, and the custard is finally poured on top of the mixture. The entire quiche is then cooked at medium heat for roughly 30 minutes, until the custard solidifies.
Hundreds of variations exist on this very simple recipe, but that is quiche Lorraine at its most basic. Cheese, mushrooms, pepper, fromage blanc (yogurt), and créme fraiche may also be added, depending on taste.
AS FEATURED ON:
AS FEATURED ON:

By: sparkia

Quiche Lorraine typically includes bacon.

By: andriigorulko

Eggs are one of the main ingredients in a quiche lorraine.

By: polesnoy

Quiche Lorraine is the original form of quiche, from the French region of Lorraine.

By: manuart

Gruyère or Emmenthal cheese is often used to make a classic quiche.

By: robynmac

Quiche Lorraine recipes traditionally include mushrooms.